Postcard Marketing: How it Works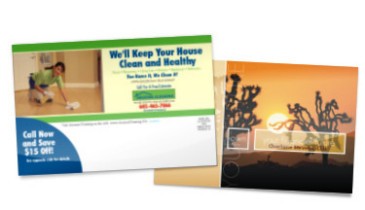 Postcard marketing is a powerful tool for businesses to advertise in the mail effectively and at the most affordable level. Postcards are effective because they are virtually always seen by the recipient.
Since there's no envelope to open or seals to tear – there's nothing between your message and their eyes. Postcards are seen and read more often than letters or folded flyers.
A well-designed postcard, mailed to an accurate mailing list will get better results for most offers. That's why you see so many of them in your own mailbox. Postcard marketing works.
Call us Today. You'll be glad you did! 1-877-433-9101
Steps to a Successful Campaign
Below is a general overview of the steps to developing a postcard campaign with Accurate Mailing.  Please call or contact us with any questions or if you would like to get started.
1. The Meeting – Begin with a thorough consultation. Over the telephone or in person we'll discuss your ideas and goals, look at the budget, talk about mailing list options and develop a strategy for your postcard marketing campaign. Since our project managers approach mail from an adverting perspective, this meeting can be valuable time well spent.
2. The Proposal – After discussing and agreeing on how to proceed with your project, we'll email a proposal to you. The proposal outlines the details of your postcard campaign and payment options. With your OK, we'll immediately begin working on your project.
3. The Design – You may use your own graphic designer or we'll design your postcard for you – based on your supplied ad copy (verbiage). In two or three days you'll receive a draft proof. Let us know about any changes or corrections that need to be made. We do not set limits on how many times you make reasonable changes or corrections.
4. Print and Mail – Within a few days your postcards will be printed and mailed to your targeted mailing list. Normal turnaround is 5 or 6 working days following your sign off . Rush options are available. After your mailing goes out, we'll send you the documentation from the post office as certification that your mailing was accepted.
So call now to get started. Or send us an email below. Discover the benefits – and cost advantages – of postcard marketing today.