It can be costly to send out direct mail in bulk. Even so, many small companies are able to send up to tens of thousands of pieces a month. For a company to use so much direct mail they must depend highly on the return business of their pre-existing customers to allow them to spend so much money per month on lead acquisition.  
Is direct mail worth the high costs? And if so, how can you do direct marketing on a budget and maximize your investment return?
Budgeting options
When it comes to budgeting, you have three main starting points:
You know your targets and how many mailers you have to send, but you don't know how much it will cost. In this case, you are looking for

an estimate

.

You already have a price tag in mind and want to know what you can do with this amount. You are looking for a

proposal.

You know how much you want to spend and the costs a mailing project involve, but you want to know how to get this done as cheaply as possible: you are looking for

cheap and affordable solutions

.
1. Your Direct marketing budget based on an estimate
So, let's begin with the estimate. There are a few elements to take into account when budgeting a mailing campaign: the list, the creative process, printing, mailing, and postage.
The List
Using the right mailing list is an important first step in the process of any successful mailing campaign. Filter your targets by relevant criteria (example: home value, age range, zip code, and income) so you can reach out to the individuals that are more likely to invest in your product.
A mailing house can help you with a step-by-step process to identify the very best prospects for your targeted mailing. You can purchase a high-quality list starting at:
Residential list –

$10 and $24 per thousand.

Business list

– $55 to $130 per thousand with a $100 minimum cost.

Consumer list

– $30 to $55 per thousand  with a $100 minimum cost
Design
You can do it yourself or hire a graphic designer that will take your ideas and create a custom-designed mail piece. But be aware, a huge amount of savings on postage depends on how the mail piece is designed.
It is highly recommended that you work with a mail house with experience in designing pieces according to specific postal regulations. Moreover, a full-service mailing house can help you to find the right budget balance with the best design size, color, and paperweight in mind, and who will then prepare the mailer for printing. Custom direct mail house design services usually start at $55 per hour.
Read Pricing your Bulk Mail Project
Printing and mailing
Look for a digital or offset printer capable of printing any size or format from a variety of paper sizes and ranges. Use recycled paper for the sustainable use of wood to decrease deforestation. Be open to new printing techniques like digital and computer-to-plate printing: these innovative techniques contribute to reduced chemical and paper waste, and overall emissions. Though they usually have a higher cost.
Find a printer with a reputation for quality and customer service, and order a sample kit. Most companies will send you samples free of charge so you can see the quality of their finished materials firsthand.
Make sure that the standardized address is printed on the mailpiece and that you include the barcode if you are looking for an automation postage rate.
Lastly, the mail house your select must be able to process all sorting, stuffing, and stamping. Use their expertise to find and meet the proper post office parameters in EDDM, non-profit rates, or postcard rates.
Postage
Postage is often the most expensive part of any mailing project you might be working on due to postal costs & regulations. Fortunately, there are services that can help you save on postage as much as possible. Listed below are the average postal rates, these are subject to change. Always check with your mail house for an accurate estimate.
Using printing and mailing services of one mailing house from start to finish can help you avoid costly mistakes that can occur when using multiple vendors. But sometimes that's not practical. In such cases, you can work with a graphic designer, then with a printing and mailing house so that your mailing can be processed effectively according to post office standards.
So, to send 6,000 mail pieces you have to pay $2,460.
2. Build your direct mail campaign budget backward
Let's take a look at the second approach, the proposal. In this case, you build your budget based on your business goals. This way you can clearly see the outcomes of investing in direct mail advertising.
How do we measure this positive outcome ROI? We'll suppose that the entirety of your direct mail campaign is being managed by a mail house that offered you all services included for $0.30 per mail piece (starting from 5,000 mail pieces).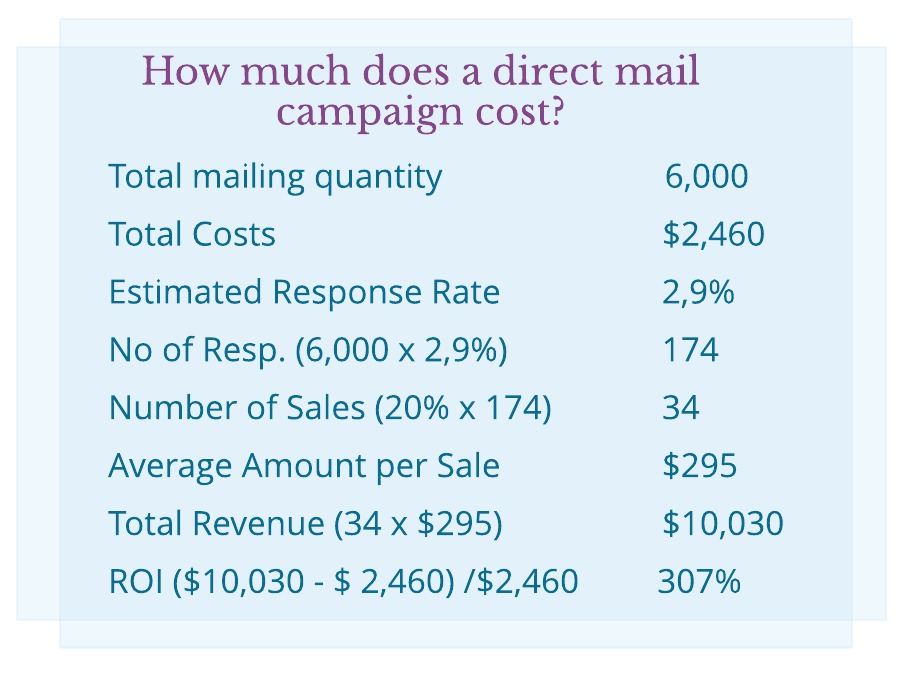 This time, estimate your costs, starting backward with the desired outcomes:
Your goal is

$10,000

in sales by the end of the month.

The average sale is under $295. So, you need

34 clients

to reach your goal.

Let's say that only 20% of those who respond to your call to action, make a purchase.

In order to generate 34 orders, you need

174 leads at a 20% conversion rate.

Assuming that your mailing response rate is 2.9% you need to send

6,000 mail pieces

.

If your

printing & mailing (including postage)

 

is $0.30 per piece, you'll need a budget of

$1,800

to prepare your mailers for delivery. Add the mailing list cost and the fee for a graphic designer, and your total expenses will rise up to approx. $2,460.
The bottom line is that direct mail can help you to attract new leads and generate sales. If your mailing offers you even 1% response rate, it is still worth sending it. At an only 1% response rate, your net profit will be $1,080!
You can double your investment by raising your costs up to $5,000. This way you have a safety margin to add greater quality to your mailing: thicker paper, glossy or matte finishes, bigger size formats, creative design, and vibrant colors.
If your average amount per sale is at least $100, your mailing is still profitable with a 38% ROI, but in this case, you have to stretch your mailing budget.  
3. Reduce your direct marketing costs
Your third budgeting strategy is to reduce costs as much as possible. Cutting some of the costs at each step of the production and shipping process will help you to improve the overall ROI and the effectiveness of your mailing campaigns.
Improve your Mailing List
Use a list with high deliverability, that has been run through CASS certified software to evaluate the accuracy of the addresses and zip codes. Use a moving update service to find contacts who have changed their address. This way you'll save money from the very beginning on the printing, processing, shipping, and postage for duplicate addresses that have to be eliminated from the outset.
Choose Cheap Size and Formats
If you want to run direct mail on a budget, choose self-mailers. A self-mailer is any piece of direct mail that does not require an envelope, and the address information for postage is printed directly on it. Self-mailers are a cost-effective direct mail marketing tool, used widely for their fast turnaround and ability for mass distribution of a simple marketing message.
Postcards don't have to be large and expensive to be effective. A big plus is that postcards don't take much time to read. The recipient can understand your offer within seconds of glancing at it. "If you're planning to mail a postcard, First-Class Mail gives you the best value for your postage dollars. There is no lower postcard price in USPS Marketing Mail". You can order full-color glossy 4.25 x 6 postcards at prices starting from $178 for a 5,000 mail pieces batch.
Folded Postcard is a multi-panel postcard that gives more space to write your message. Most common is a 3-panel mailer (2 folds) and used for event invitations. You can add a perforation for a reply card or coupon. You can order full-color 6 x 8 half folded postcards at prices starting from $454 for a 5,000 mail pieces batch.
Booklets are used for multi-product sales or sales that require a longer sales pitch, suitable for catalogs and event programs. You can order full-color saddle stitched booklets with 8 pages at prices starting from $ 289 for a 1,000 mail pieces batch.
Door Hangers.These simple pieces are a great way to brand yourself, boost traffic to your store, and provide inexpensive advertising. Door hangers offer an advantage over traditional direct mail by creating a "guaranteed impression." The homeowner must handle the piece that is just one advertising message with great exposure. You can order door hangers at prices starting from $ 386 for a 5,000 mail pieces batch.
If you want to keep costs under control, try to avoid unique and odd shape formats, such as die-cuts or unusual sizes, intense colors and matte finishes, that can increase your printing and postage costs. A simple standard format with a compelling offer can be as effective as a very creative one.
In a nutshell, choose the format that fits best your marketing goals, target audience, the product or service you're selling and your budget.
Cheap printing options
Once your design is ready, the next decision to take is printing. What options do you have?
Digital printing
Use digital printing to deliver quickly or small orders. Digital printing is also suitable for metallic colors, and a wide variety of glossy, matte and textured coatings that may be printed in-line or added in post-processing.
This type of printing is cheaper for black and white materials and more suitable for personalized direct mail pieces because it easily handles variable data such as names, addresses, codes, etc.

Offset Printing
On the other hand, traditional offset printing is more appropriate for high-quality prints, accurate color reproduction and large (over 1,000 pieces) runs. Also, it supports a large variety of paper type with custom finishes.

While digital printing is more advantageous for short runs, with offset printing, the more you print, the cheaper is the price per piece. As a general rule, if it's under 1,000 mail pieces it will be cheaper to produce on a digital printer.

The Paper
Choosing the right paper is very important when creating your pieces. Using quality papers can show the value of your brand. Selecting a paper with a good weight will make a good impression on your recipients.
If you want to reduce postage, choose a lower paperweight for your mailer, but at least 80 lb weight to meet mailing requirements. Keep in mind these guidelines:
12 PT (100 lb) – the most economical option, great for bulk mail and letters.

14 PT – a standard and popular choice suitable for business and professional postcards.  

16 PT provides a luxurious texture that stands out from the rest for thick high-quality postcards.
For multi-paged mail pieces, you can use a paper combination, a lightweight paper for inner pages, coupled with a thicker paper cover that can grant a more robust feel to the overall mal piece, protecting it from tears and damage.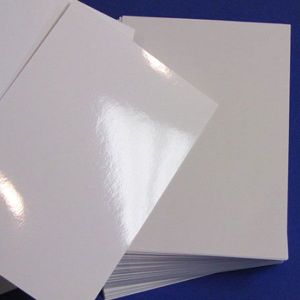 When it comes to paper finishes, a gloss paper is usually the cheapest option and provides vibrant colors and a shiny look.
A matte paper is more expensive and more resistant to fingerprints and smudges, it also provides a luxury feel. Choose accordingly what you are looking for.
Otherwise, avoid coating, some coatings may rub off during the mailing process or ask your printer what coating can be safely used.
Other cheap options that will weigh heavily in your budget:
Color front, no back

Color front, black & white back

Yellow Cards

Vintage White & Black Postcards
Cheap postage
The majority of the money you spend on direct mail will be on postage. But if you are paying the full price for postage you are certainly throwing money away. Cutting some postage costs will significantly lower your costs per lead.
a) You can get great discounts for large batches of mailing:
Planning ahead and producing large quantities of mailing then using them over the course of several months can help you reduce the cost per piece for your campaigns.

A minimum parcel of mailing

that qualifies for discount mailing – 300 mail pieces prepared according to the USPS requirements.

There are price breaks for large quantities of mailing. The more you mail, the lower the price per piece.

 For maximum saturation mail discounted postage rates, you need to follow 90/75 rule. That means that you must mail to at least 90% of all residential addresses OR 75% of all business and residential addresses combined in a given carrier route if you want to qualify for the lowest saturation postage rates.
b) You get discounts if your direct mail is presorted.
A presorted mail piece means less work for the post office, so they're able to pass the savings to you. One way of using presorted mail is to print IMBs (Intelligent Mail Barcodes) which allow for automation discounts.
c) You can get great discounts for direct mail integration with new technologies:
USPS offers seasonal promotions for supporting the integration of direct mail with new technologies, like mobile outreach.
d) Postage prices for Every Door Direct Mail, great for businesses that target an entire neighborhood, are a fraction of the cost of presort standard bulk mail. And you don't have to purchase a mailing list!
Making efforts to decrease the costs of direct mail is the most rewarding. Get help from an expert that understand the USPS regulations for direct mail automation and your ROI will be higher than you can expect.
Let's face it, direct mail can be costly and require a considerable financial commitment. The good news is that the benefits of direct mailing probably beats any possible hassle. And from my experience, I can tell you that finding the perfect formula for your direct mail campaign can even be fun!