Guide for Beginners [Download Mockups]
How can you create your own custom postcard? Let's begin with a mockup. What is a mockup? It is a model that allows you to put together a visual presentation of a finished product, in this case, a postcard. It reflects the design choices for color schemes, layouts, typography, photography, navigation, and the overall atmosphere of the postcard.
The Internet offers tons of mockups for you to freely download. In this article, you'll learn how to download and create your own postcard, starting with a mockup designed by a professional designer. 

At AccurateAZ we use mockups to showcase, for instance, the first draft for a custom postcard, a flyer, or a business card to a client. It can start project conversations about tweaking and adjustments that will end up with a better-polished ad.

Mockups allow us to get a better idea of the final rendering. They allow our customers to see a preview of the final product before beginning production
.
The Key Components of a Mockup
When we design mockups, our concerns are:
Content Layout. We pay attention to the way the content is displayed. We consider the size of each piece of content and how it fits into different compartments of a direct mailer.
Contrast. We use contrast colors to increase the visibility of different elements – headlines, calls to action, numbers, keywords.
Color Palette. Colors have different meaning and evoke different emotions. It's important to apply the psychology of colors to elicit specific reactions – bold and solid colors for action required topics and soothing colors for increasing awareness.
Typography. We like to play with font size, style and spacing and adjust typography for different channels of communication.
Spacing. We use large empty spaces to balance content components and increase readability. With intelligent use of emptiness, we can also achieve a visual hierarchy.
How can you use a Mockup?
You don't have to be a graphic designer to use a mockup, there are a lot of mockups available where you can just insert your design!
Step 1. Download Mockup
When you download a PSD mockup, it is typically saved as a zipped file. Once you extract its contents, take a close look at what the seller has included. Ideally, it should possess the following files:
.psd file of the mockup, which is the source file you will edit

.jpg file of the mockup, a preview of the template in action

.txt or .pdf file that explains what the mockup is about, who made it, and its licensing policy.

Step 2. Find smart object
The next step is to open the .psd file in Adobe Photoshop and study its layers. See how the layers work and find out how you can replace its default elements with your own content.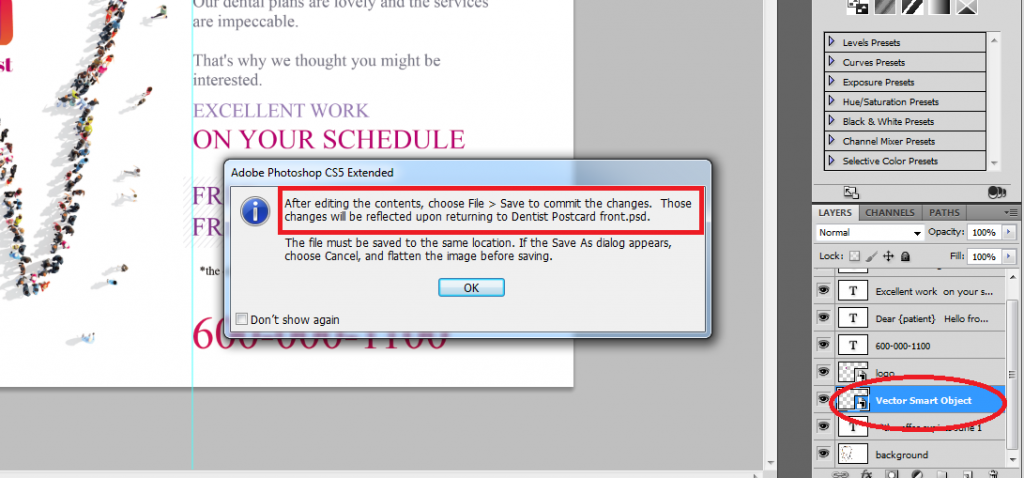 Step 3. Insert your content
At this step, you have to click the Smart Object icon of the layer you want to change. Doing so will open a new Photoshop window displaying only the artwork that you are going to replace.

Now go back to the original PSD file and you'll find the new changes in place. Add your logo, your offer, your contact information and you're ready to go!

Conclusion
Using mockups for designing your own postcard is quite easy. Just follow these clear basic steps. Let us know if the customization was a success! With your feedback, we will create more templates and mockups for you to download and customize!