Listen to This Blog Summary:
Direct mail fundraising letters are still an effective way to get money for a good cause. It helps nonprofits connect with their supporters, get people to take action, and raise the money they need to support their goals. Regarding direct mail funding, the most important thing is to write the right kind of letter. In this piece, we'll look at 11 kinds of direct mail fundraising letter examples for nonprofits and discuss when to use each with some non-profit envelope design examples.
Why are Direct Mail Fundraising Letters Important?
Nonprofit organizations require direct mail fundraising letters for multiple reasons. Their relationship with the donor inspires emotion and honesty. Targeting with accuracy increases responses. It is less crowded than digital, thereby ensuring delivery. It promotes the mission and involvement of the organization. Professional direct mail branding increases donor faith. Direct mail is more accessible because it can receive gifts that are not digital. Keeping handwritten documents for reference and follow-up purposes enhances retention. Direct mail increases digital visibility. It also facilitates response monitoring, which is essential for marketing evaluation.
Direct Mail Fundraising Letter Examples - 11 Samples for Nonprofits
Let's look at some of the best fundraising letters examples, beginning with a template of the basic format to follow:
1. Basic Donation Letter Format:
A basic donation letter format is a template that nonprofit organizations use to solicit donations from supporters, whether individuals or businesses.
You can use this format as the foundation for various fundraising campaigns, such as annual giving appeals, emergency relief efforts, or ongoing donation requests.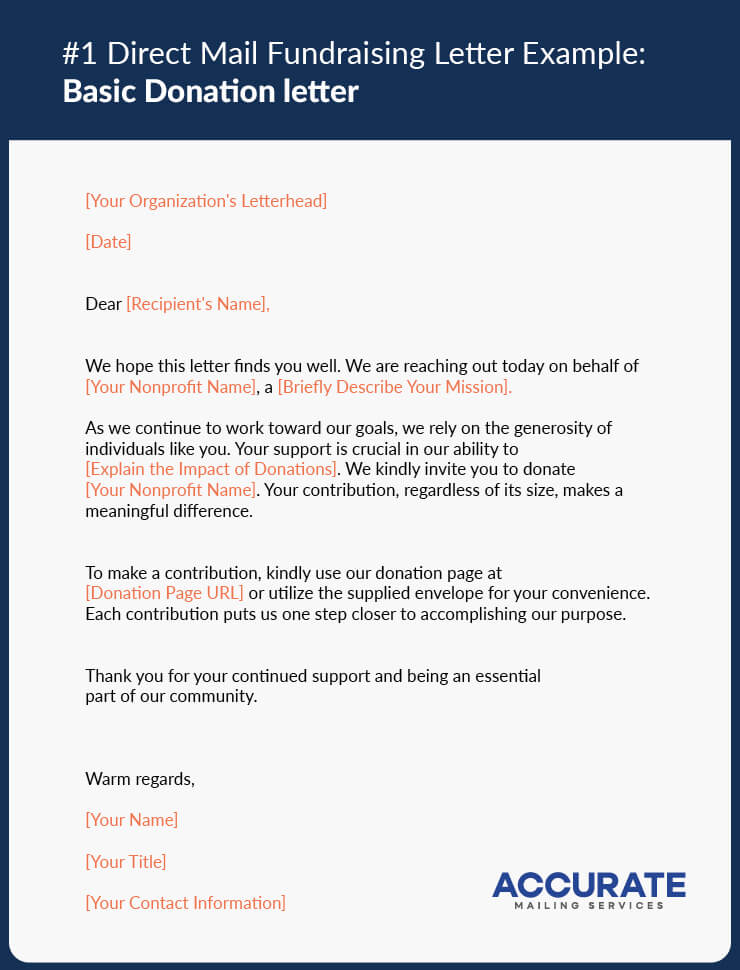 2. Request Letter for General Donation:
These letters request financial contributions from individuals or organizations without specifying a particular campaign or project.
Annual Appeals:

Send out a general donation request once a year.

Ongoing Fundraising:

Use these letters as part of your regular fundraising efforts.

Emergency Fundraising:

When your nonprofit faces an urgent need for funds.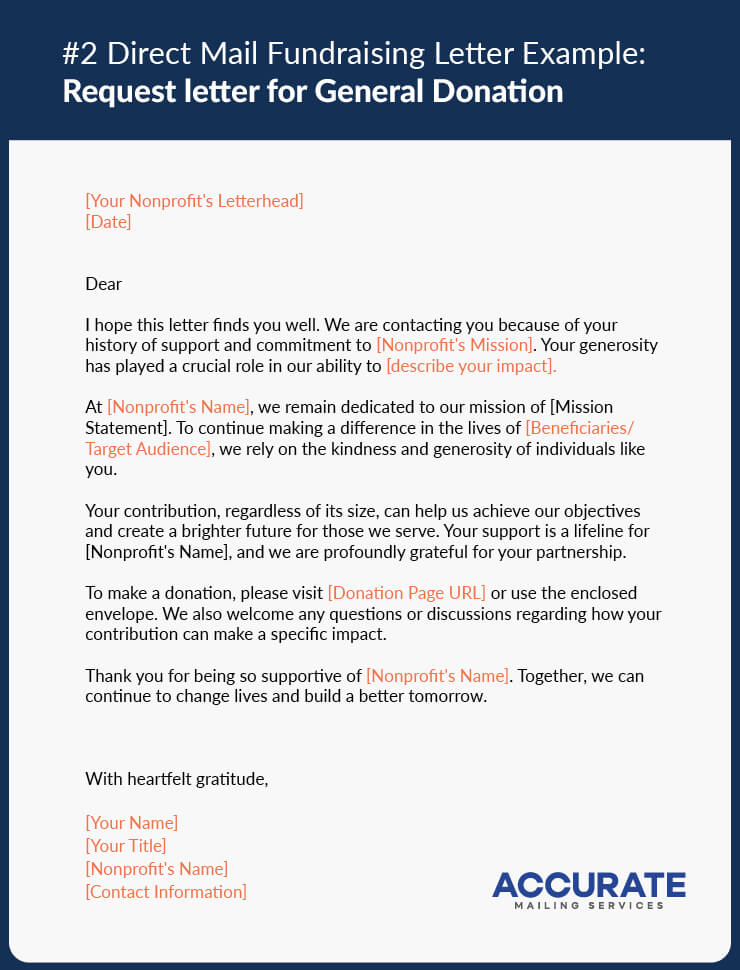 3. Sponsorship Request Letter for Fundraising :
These letters request financial support or in-kind contributions from businesses or individuals to sponsor a specific event, project, or program.
Event Sponsorship:

When seeking support for an upcoming event.

Program Sponsorship:

To fund a particular program or initiative.

Ongoing Sponsorship:

As part of a structured corporate giving program.
Fundraising Sponsorship Letter Sample: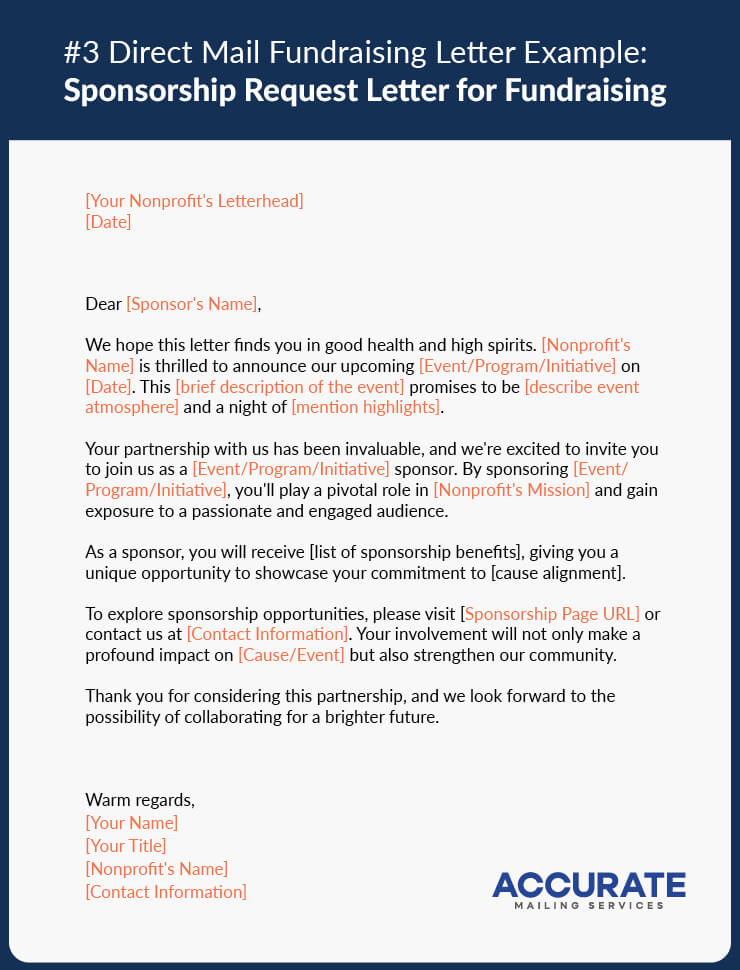 4. Letter to Request Volunteer Support:
These letters are used to recruit volunteers or request volunteer support for specific projects, events, or ongoing activities.
Volunteer Recruitment:

When seeking new volunteers for your nonprofit.

Event Volunteers:

To secure volunteers for a particular event or initiative.

Ongoing Volunteer Support:

To engage existing volunteers in additional roles.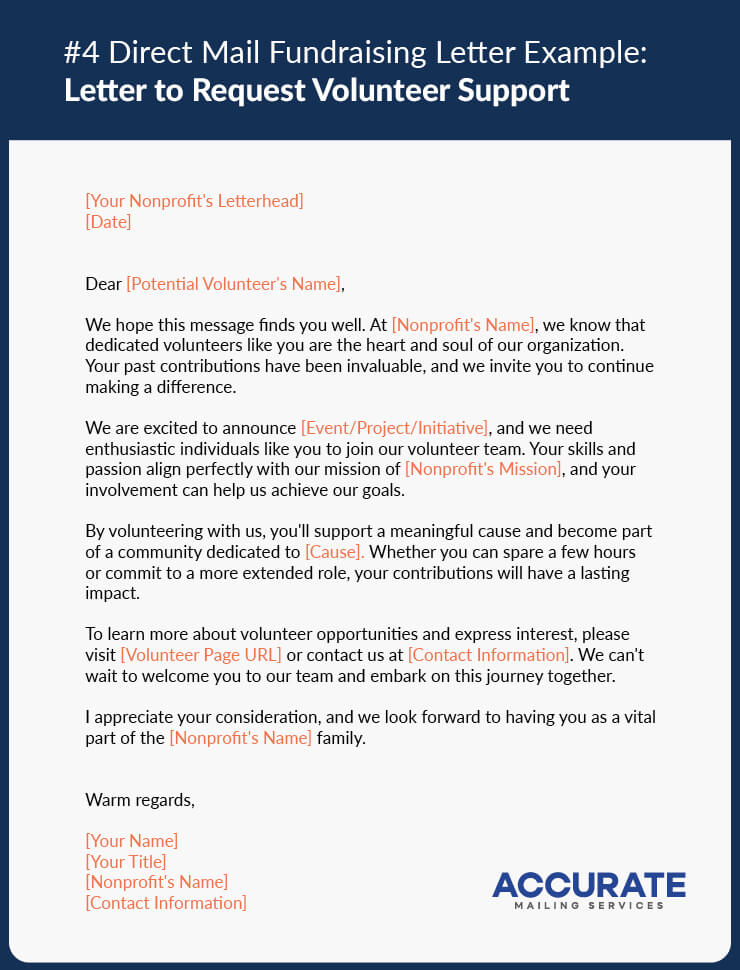 5. Request Letter for a corporate donation:
These letters target businesses and corporations requesting financial support for a nonprofit's initiatives, events, or programs.
Corporate Giving Campaigns

: As part of a structured corporate giving program.

For Specific Projects:

When a business's values align with a project's goals.

Year-End Giving:

To capitalize on businesses' charitable contributions at the end of the fiscal year.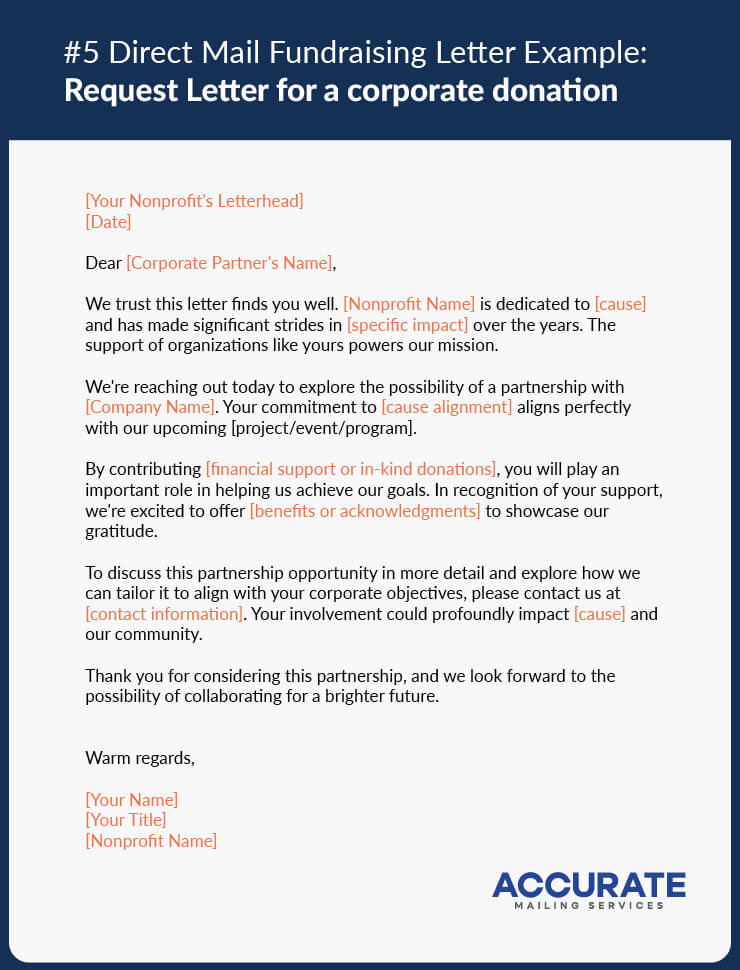 6. Request Letter for Asking Auction Item:
These letters request donations of items or services for fundraising auctions or events.
Before Fundraising Events

: To secure valuable items for auction.

Auction Fundraisers:

For item donations that enhance the event's appeal.

Year-Round Efforts:

To build relationships with donors willing to contribute auction items.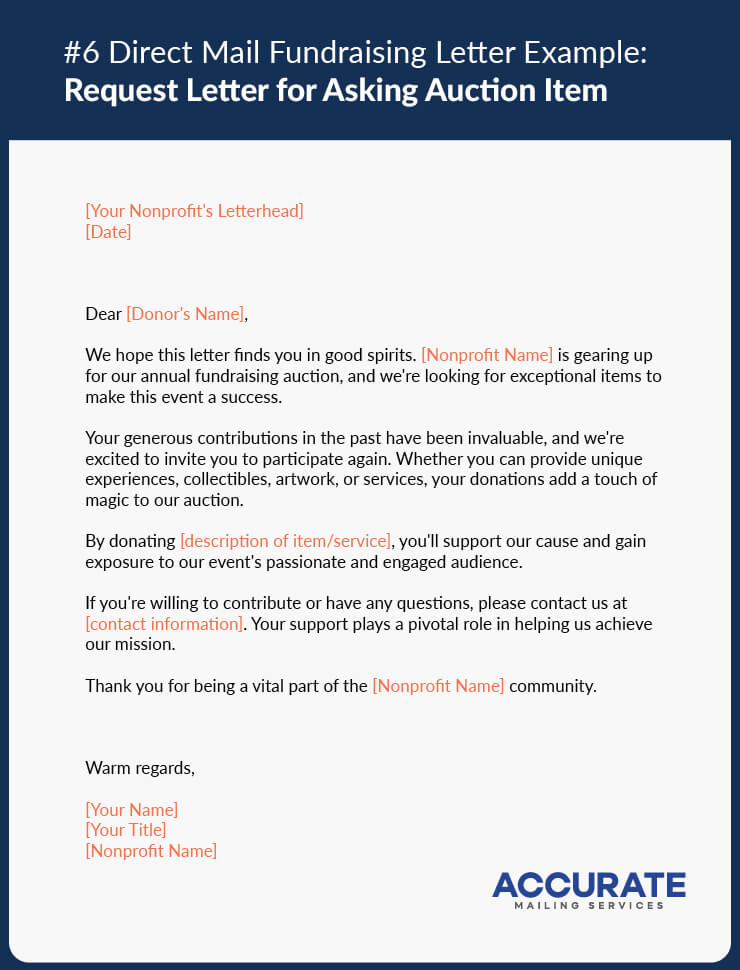 7. Request Letter for Online Fundraising:
These letters encourage donors to contribute online through the nonprofit's website or a designated platform.
Digital Fundraising Campaigns:

As part of a broader online fundraising effort.

Targeted Appeals:

When specific donors prefer online giving.

In Response to Email Appeals:

As a follow-up to email solicitations.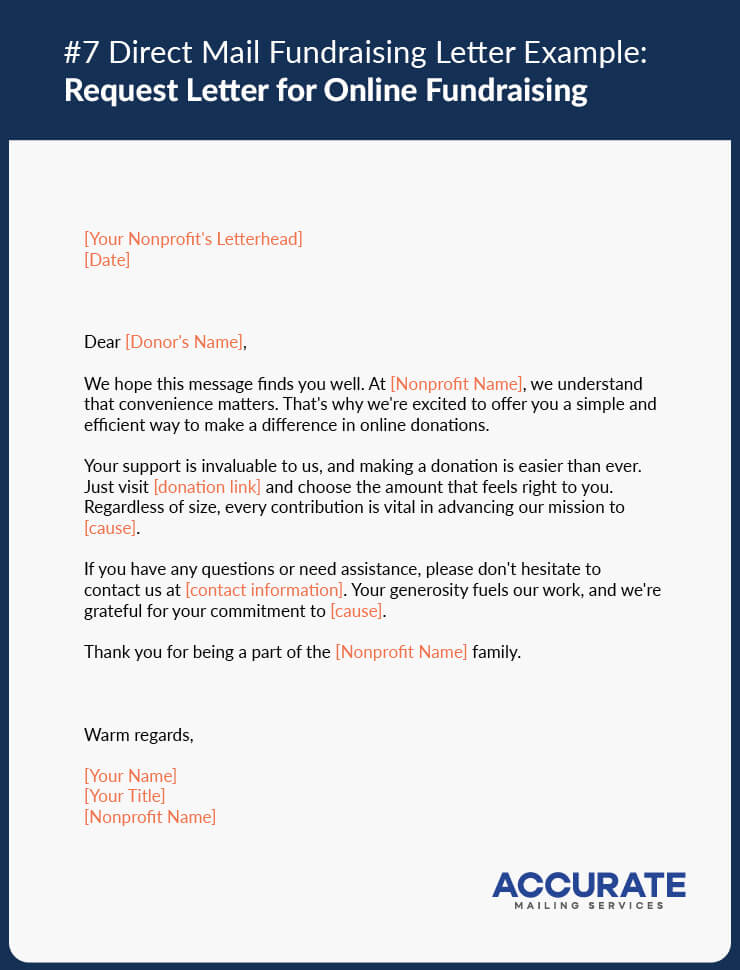 8. Letter for Joining Fundraising Events:
These letters promote fundraising events and encourage recipients to attend or support them.
Event Promotion:

Leading up to the event to boost attendance.

Ticket Sales:

To sell event tickets or secure reservations.

Sponsorship Solicitation:

When seeking event sponsors.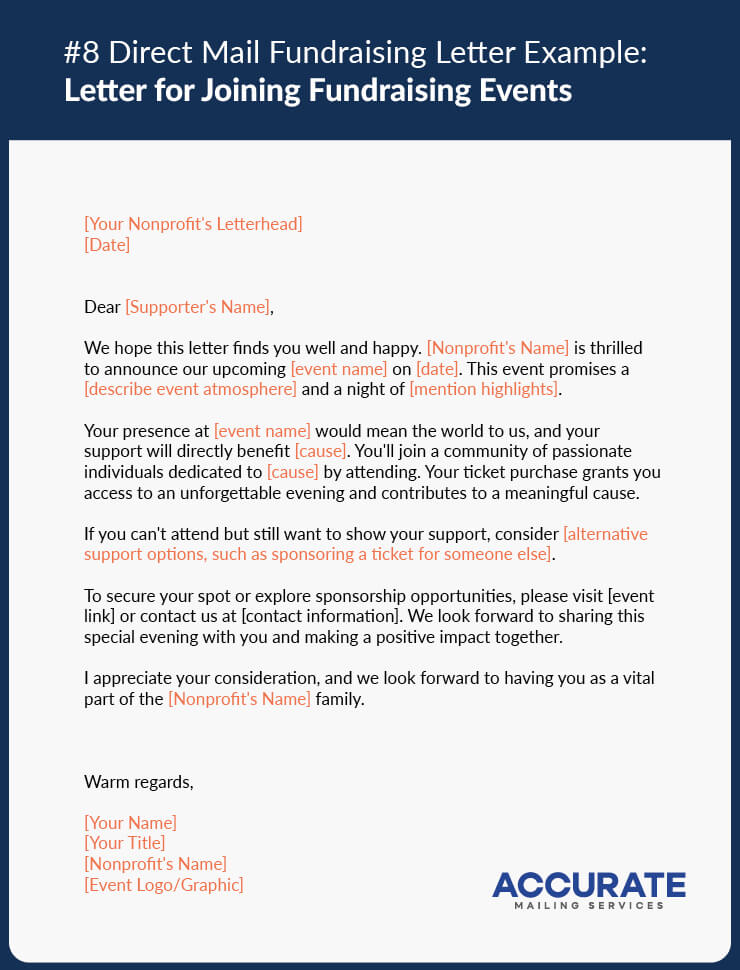 9. Request Letter for New Nonprofits:
Nonprofit startup letters are messages newly established nonprofit organizations send to potential supporters and donors to introduce their mission and seek initial financial backing.
Direct mail for nonprofit startups plays a vital role. Use startup letters when launching a new nonprofit or seeking support for a specific project or initiative at the beginning of your organization's journey.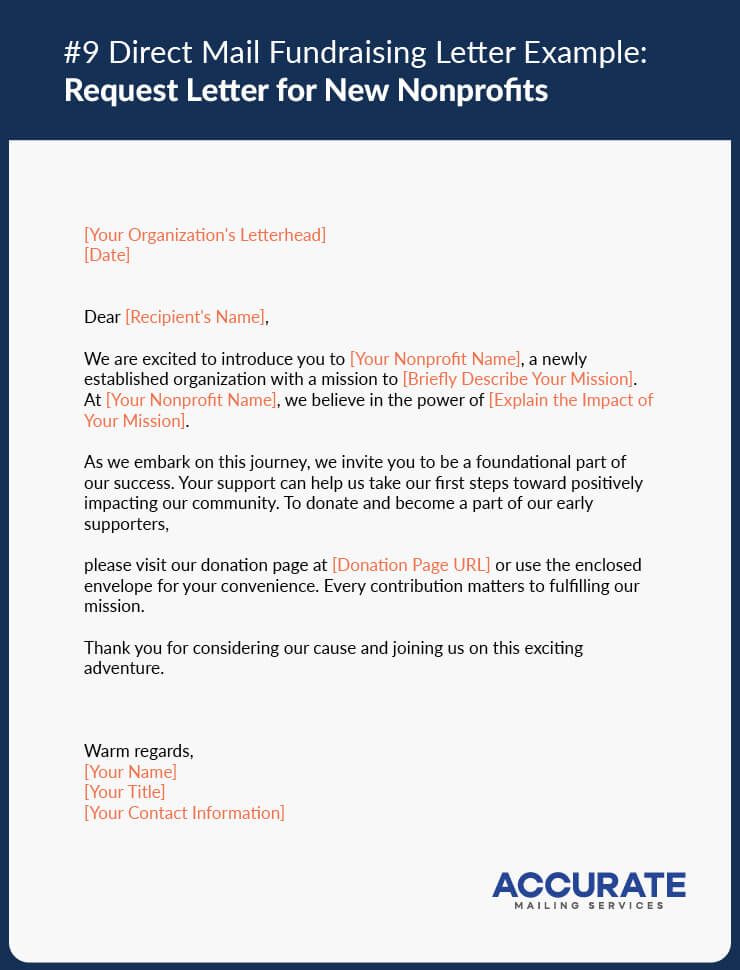 10. Donation Request Letter for Schools:
Fundraising school letters are communications that educational institutions use to raise funds for various programs, scholarships, or improvements. Direct mail fundraising for educational institutions has proven to raise funds, and this letter greatly impacts donors.
Utilize these letters when your school needs financial support for initiatives like building renovations, student scholarships, sports teams, or academic programs.
Sample Fundraising Letter for Schools: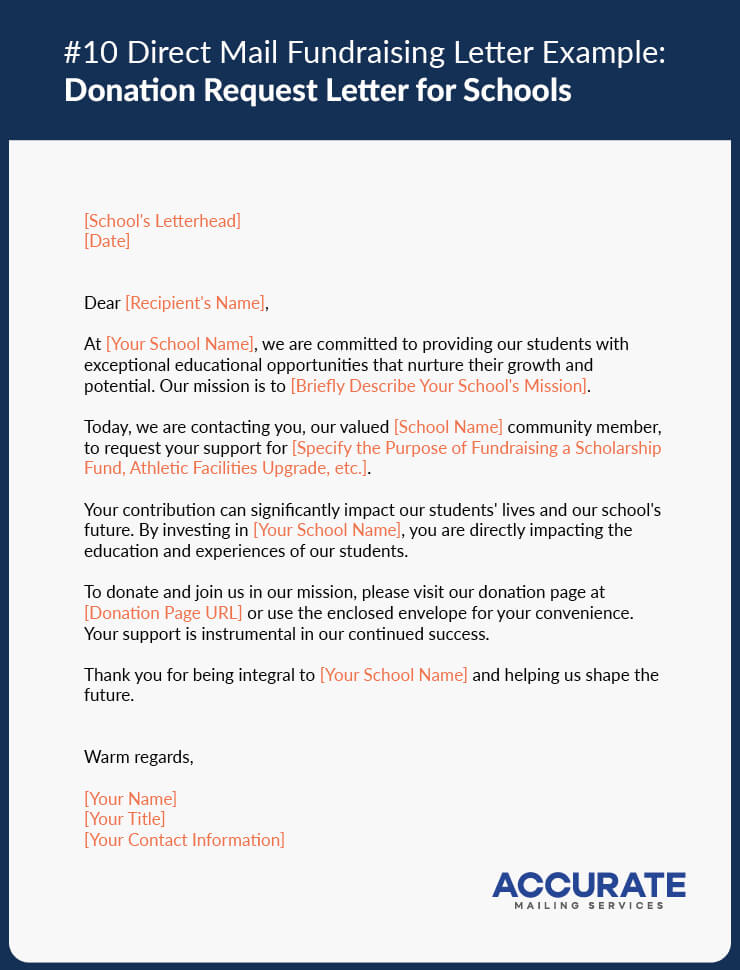 11. Fundraising Letter for Churches:
Church fundraising letters help churches raise money for different church projects, missions, and programs. These letters also inform church members about upcoming events and how they can donate, even if they can't attend.
Use these letters when seeking financial support for church initiatives, whether for building maintenance, community outreach, missionary work, or special projects. These letters can also be used to ask –
Items wanted for a charity auction.

Donations for a fundraising event.

Sponsorship request.
Church Fundraising Letter Sample: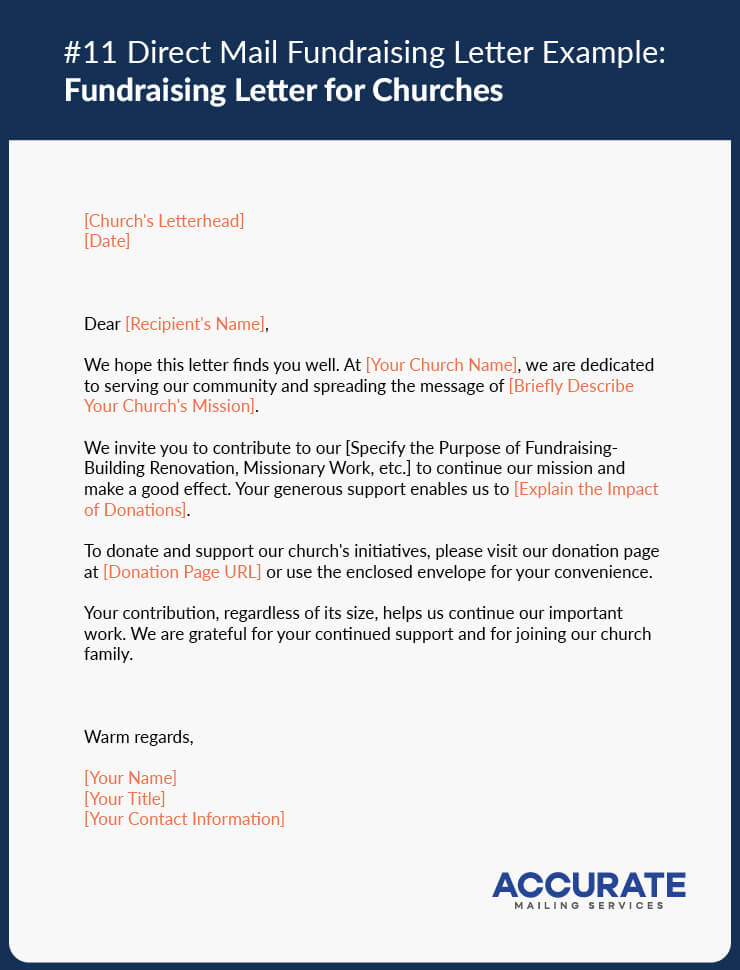 Fundraising Envelope Design Idea:
Lastly, How you design the envelope matters greatly when you send letters to raise funds for your non-profit. The envelope is the first thing people see. If it looks interesting, they're more likely to open it. Here's an example of a fundraising envelope design that's both creative and effective:
Cool Picture

: On the front of the envelope, there's a cool picture related to the non-profit's mission. For example, if your non-profit is about helping the environment, you might show a picture of kids planting trees. It makes people curious and excited.
Easy-to-Read Words

: The address where the envelope goes, and the return address (in case it doesn't reach the recipient) are written clearly in a simple font. But for the teaser text, which is like a hint, you can use fancier writing that looks like handwriting.
Interesting Hint

: The teaser text briefly hints at what's inside the envelope. For example, it could say, "Open to See How You Can Make the World Greener." It makes people wonder what's inside.
Encouragement to Open

: On the back of the envelope, a short message encourages people to open it. In our example, it says, "Open to Find Something Cool About Saving the Planet." It makes people want to know more.
Non-Profit Info

: You can also put your non-profit's logo and contact details. This way, people know it's from a real organization and can reach out if they have questions or want to help.
When you open the envelope, you'll find the fundraising letter. It should keep the same style as the envelope, like using the same fonts and colors. This way, it all looks like it belongs together.
Good envelope design is important because it makes people want to open your letter. And when they do, they're more likely to get involved with your non-profit and support your cause. So, think about how your envelope looks—it can make a big difference!
Do's and Don'ts of Effective Fundraising Letters:
Work with a company that helps raise money through direct mail. Using a direct mail fundraising platform to send letters asking for donations will cost you more money and detract from your goal. Not so quickly! With a strong and low-cost partner like Accurate Mailing Services, you can raise more money for your cause for less than it would cost you to purchase paper, ink, envelopes, and stamps on your own. So your funding team will have more time and energy to do other important things.
To help you get the most out of your donation letters, we've compiled a few of our expert hints:
1. Do Tell a Compelling Story: Share a real-life story that illustrates the impact of your non-profit's work. Make it relatable and emotional to connect with donors.
2. Do Address Recipients Personally: Use the recipient's name whenever possible. Personalization shows you value their support.
3. Do Clearly State Your Ask: Be direct about what you're asking for—whether it's a donation, volunteer time, or event attendance. Make it easy for donors to understand your request.
4. Use Clear and Concise Language: Keep your point easy to understand and simple. Avoid jargon or complex language that may confuse readers.
5. Do Highlight the Impact: Explain how the recipient's contribution will make a difference. Show them the positive change their support can bring about.
6. Do Express Gratitude: Always thank donors for their past support and express gratitude for their consideration. Acknowledging their previous contributions strengthens your relationship.
7. Do Provide Donation Options: Offer multiple donation methods, such as online giving, check, or phone, to accommodate donors' preferences.
8. Do Include Contact Information: Make it easy for donors to reach out if they have questions or need assistance. Provide contact details, including phone numbers and email addresses.
9. Remember to Follow Up: After sending the letter, follow up with donors to thank them and let them know how their donations are helping. To build connections, you have to talk to people often.
1. Don't Use a Generic Greeting: Avoid starting your letter with "Dear Friend" or a generic salutation. Personalize your greetings with the recipient's name.
2. Don't Make It All About Your Non-Profit: While it's important to introduce your organization, focus on the donor's role and the impact they can make.
3. Stay calm with Information: Keep your letter concise and to the point. Avoid including too many details that might overwhelm or confuse readers.
4. Don't Use Complex Jargon: Steer clear of industry-specific jargon or technical terms that donors may need help understanding. Use everyday language to communicate your message effectively.
5. Remember a Clear Call to Action: Ensure your letter includes a specific and actionable request. Don't leave donors wondering what you want them to do.
6. Refrain from Neglect Proofreading: Typos and errors can detract from your professionalism. Proofread your letter carefully to ensure it's free from mistakes.
7. Don't Disregard Donor Privacy: Respect donors' privacy by not sharing or selling their information without their consent. Include a privacy statement to reassure them.
By adhering to these do's and don'ts, your fundraising letters will become more effective in engaging donors, conveying your message, and inspiring support for your non-profit's mission.
How Accurate Mailing Services Can Help Nonprofits to Send Fundraising Letter:
At Accurate Mailing Services, we understand that sending fundraising letters through direct mail involves a precise and strategic approach. Our expertise ensures that every step is meticulously executed to maximize your campaign's success.


Targeted Mailing Lists:

We begin by helping you compile a well-organized

mailing list

meticulously curated to include potential donors who align with your cause. Our focus is on accuracy and relevance to optimize your campaign's impact.
Compelling Letter Design:

Crafting an engaging and

personalized letter

is our specialty. We work closely with you to create a letter communicating your organization's mission, fundraising objectives, and the tangible difference donations can make. Your message is paramount.
Strong Call to Action:

We understand the importance of compelling donors to take action. Our letters incorporate a clear and persuasive call to action, accompanied by response mechanisms such as reply cards and return envelopes, making it easy for donors to contribute.
Attention to Detail:

Presentation matters. Accurate Mailing Services pays attention to every detail, including

designing attention-grabbing envelopes

and conducting thorough proofreading. We ensure that your materials are flawless before they go to print.
Efficient Printing & Mailing Process:

From print and mailing your documents to postage, we handle the task efficiently, guaranteeing that your materials are sent accurately and on schedule. Our mailing efforts have ranged from 500 to several million pieces. Our Seamless status with the

USPS

is also a source of pride. Our variable data and

commercial printing services

can handle any print and direct mail project, including

postcards

,

flyers

,

brochures

, and letters. We monitor the progress of your mailing to ensure it reaches your intended recipients.
Follow-up and Engagement:

Our services extend beyond sending letters. We can help you with follow-up strategies and engagement activities to keep donors connected and informed about your mission.
Campaign Analysis:

We believe in continuous improvement at Accurate Mailing Services. We help you analyze campaign results, providing valuable insights that allow you to refine your approach and enhance future efforts.



With Accurate Mailing Services, your direct mail fundraising letter campaign is in expert hands, ensuring a powerful connection with donors and unwavering support for your organization's mission.