What leads means, why you need lead generation and how you can generate leads. What channels to use for lead generation and why direct mail is a great tool. How a prospect can qualify as a lead and how lead nurturing can generate sales. Best practices of lead generation with direct mail!
Best Practices of Direct Mail Lead Generation
The buying process has changed dramatically in our information-rich era. Today a purchasing process begins with a company website visit, continues with peer reviews reading and friends and family consultation, and ends with a 1:1 conversation with the salesperson.
In figures, this tendency, according to a recent survey, means that up to 73% of purchase decisions begin with research conducted on Google and recently on Amazon.

People are not ready to buy from you on the spot. They need time to recognize the need, identify a solution, and actively search online before making a purchase. Before being buyers, they are at first prospects and leads. They need time for their decision, and you need a lead generation and nurturing process put in place to generate sales.

In this article, we'll cover what lead means, why you need lead generation and how you can generate leads. Also, we'll see what channels to use for lead generation and why direct mail is a great tool. You'll learn also how a prospect can qualify as a lead and how lead nurturing can generate sales. A lot of topics to discuss, so, let's dive in.
What is the lead?
A lead is a person from your mailing list that shows a certain interest in what you have to offer. A qualified lead is someone that has already heard about you, visited your website, took your online survey or accessed your landing page. He or she completed their own informative research online and has a clear picture of your solution and the purchasing process. For closing sales, you just need a steady and predictable source of low-cost leads.  
What is Lead Generation?
A lead generation campaign captures the prospects' interest in your products with the purpose of building a sales pipeline. Encouraging prospects that qualify as leads to get more information you can generate at the end more sales with lower costs. Creating a solid lead generation strategy will help you build trust and capture the interest of your leads before contacting them.

Use a lead generation campaign for several reasons:
In the lead generation process, you can collect all sort of information about your customers that can help you craft the offer. Addressing their exact problems will leverage, in the end, your sales.
Your marketing efforts will be less intrusive and irrelevant to your prospects and you'll spend less energy on convincing people to buy.
Getting qualified leads reduces the number of calls to close the sale, that can lead to significant savings. Companies that implement lead nurturing programs generate 50% more sales at a $33 lower costs and the nurtured leads make $47 larger purchases according to a Marketo Report.
Lead generation is especially applicable to expensive products. You can mail first marketing materials to get a response from interested prospects, then increase your marketing efforts for your final order generation campaigns, when contacting only qualified leads.
Why direct mail is a great lead generation tool
Whether is a standalone campaign or either an integrated part of a mixed marketing campaign, direct mail can be used to generate high-quality leads.
But for direct mail to be effective it requires for you to target audiences with different demographics and psychographics. Each of this segment has its unique pain points. Addressing their specific problems will allow you to achieve a higher response rate. You can do this by creating personalized messages for each segment based on their needs, preferences, and behavior.
With direct mail, you can have quick results, due to fast turnarounds for printing and mailing and immediate response to your lead generation offer.
Once the recipients scan your mailer and discover the offer, according to the Direct Marketing Association (DMA) they act on it. In its latest survey, it founds that 92% of recipients are driven to digital activity, 87% are influenced to make an online purchase, and 54% engage with the brand on social media.
Direct mail is the most effective tool to make a product memorable. It gives you the opportunity to make an emotional connection with your prospects through a sensory experience. Paper-based marketing materials have been proven through MRI imaging to leave a deeper emotional impact on the receiver than the same piece in digital format.
Because it gets directly into the hands of your targeted audience, direct mail creates a one-to-one connection that is hard to achieve with other media channels. It also lets you incorporate coupons, reply cards, QR Codes, URLs, and other response mechanisms. This way direct mail can be a great tool for generating leads, traffic, and sales.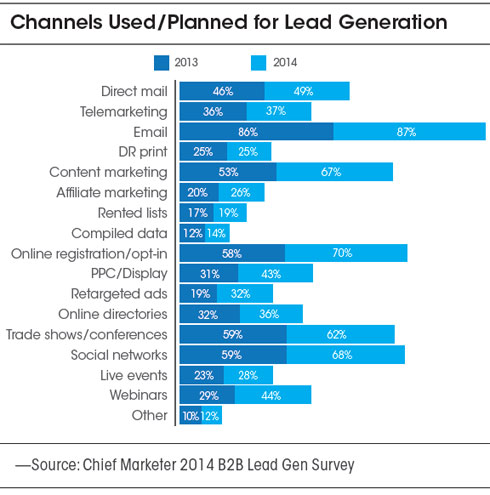 How can you generate leads?
Now that you understand the importance of lead generation, let's step into the lead generation process.
First, your prospects discover your business from one of your targeted postcards, or other lead generation mailer format: self-mailers, letters, dimensional mailer, or survey mailer.
Next, your direct mailer redirects your prospects to your integrated marketing channels such as landing page, website, and social media page, by scanning a QR code with an iPhones or by typing a short PURL into a browser, encouraged by your call to action (CTA).
Your landing page, designed to provide all the information your prospects need to take the next step, contains an offer and a lead capture form that collects personal data in exchange for the offer.
The lead generation free offer, usually in the form of a free consultation, a free report, a free trial, or educational materials, helps to get more responses from prospects interested in your specific products.
For this purpose, you can use a lead magnet, something perceived having a high value that helps to identify people who have a specific interest or struggle with a certain problem.
A study conducted by Coupons Inc discovered that up to 70% of people offer information like their name, email address and answer to question for a 2$ discount coupon, for a product they are interested in.
Other items you can offer:
A useful item, a booklet, a white paper designed to provide useful information.

An educational free material with an immediate download or quick access, like an online course.

An invitation to join a community on your social media or a subscription email list with immediate access to premium content.
Interested visitors, that click on the CTA and fill out the form to get the free offer, become at this point leads. Later in the sales funnel, they can qualify as sales lead meaning that they are interested in buying. To get to this point, they usually get through a nurturing lead process.
Getting qualified leads will result in:
Less paper waste for repeated mailing.
Lower costs for sales calls.
A higher response to order generation campaigns.
How lead nurturing can generate sales
Most leads are not ready to buy right away. It may take a while before you can contact them. The best way to stay in touch with your leads is by email follow-up sequences.
Read 7 Amazingly Effective Lead Nurturing Tactics
Lead generation decrease your marketing efforts for sales closing and investing in lead nurturing programs makes sure that your offers will be responded to positively.