Your well-informed buyer has to get through a so-called buyer's journey: from stranger to you and your business, to customer. This journey crosses three stages that visually can be represented as a direct mail sales funnel.
During a news conference held in 2017 in the East Room of the White House in Washington, Trump asked German Chancellor Angela Merkel 10 times if he could negotiate a trade deal with Germany. Every time she replied persuasively: "You can't do a trade deal with Germany, only the EU". On the eleventh refusal, Trump finally got the message, "Oh, we'll do a deal with Europe then.'"
It's a fact. People are not ready to trade or deal with you on the spot. They need time to process, recognize a need, identify a solution, and actively search before making a purchase. Or as this real anecdote has taught us, it takes at least 11 repetitions for a marketing message to be understood.
People are not ready to buy right away
Let's look at a typical scenario: in the beginning, you have spent hundreds of dollars on a direct mail campaign obtaining just a few leads. Then you sent the same campaign the following month with the same results. What's the problem? Did you fail or direct mail is not doing the trick?
The first mistake is labeling your direct mail campaign as a failure because you haven't established any deals, yet. Attempting to close a deal only with sales materials, direct mailer or website is another common mistake. The goal of materials is only to spot interested individuals and then to open a dialogue.
You need to set a marketing plan for reaching your goals by first getting leads, then opening a dialogue and finally making the proposal. Here is what we'll cover in this article.
Build your Marketing Plan around Direct Mail Sales Funnel
Let's say, on your mailing list are people who dream of quitting their jobs at big companies and starting a small business online. But they are not searching for a web domain or hosting services yet. They are only trying to find out if a small business could be an option. Time passes and those employees with entrepreneurial ambitions start to realize the magnitude of the project and the steps they have to take. And you are there to help them identify their needs: a website domain, hosting services, and web design! Being also a good motivator you deliver a direct response sales pitch. Just in time for them to take advantage of your limited time offer.
Your well-informed buyer has to get through a so-called buyer's journey: from stranger to you and your business, to customer. This journey crosses three stages that visually can be represented as a sales funnel.
Another reference for your Marketing Sales Funnel is ToFu, BoFu & MoFu. Let me explain what it means:
ToFu (Top of the Funnel) – a lead begins his journey as a contact in a mailing list that may or may not be your potential buyer. You don't know if he is interested or has the budget to fit your solution yet. Your goal is to reach a broad variety of prospects and then redirect them to your funnel with hard to refuse incentives.
MoFu (Middle of the Funnel) – Leads begin expressing their interest. Warm them up. In this phase, you can engage in conversation and ask qualifying questions to determine whether the lead has the right budget, need, and timeline to make a purchase. However, 50% of qualified leads are not ready to make a purchase when they first convert.
BoFu (Bottom of the Funnel)- At the bottom of your funnel, the persistence starts to pay off. Here you can propose assessments, trials, samples, or a free consultation. Close the deal with discounts and time-limited special offers.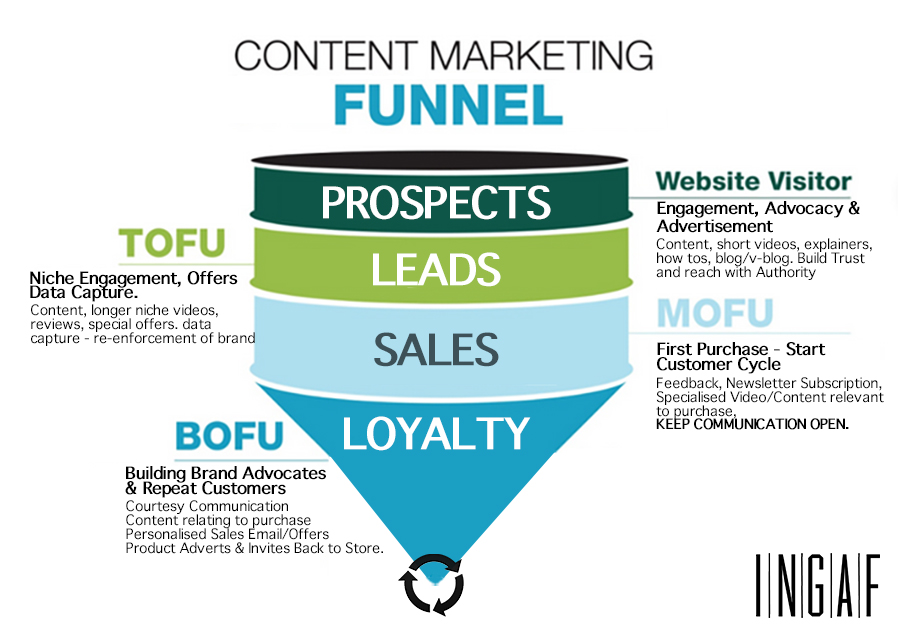 Direct Mail Sales Funnel at the Top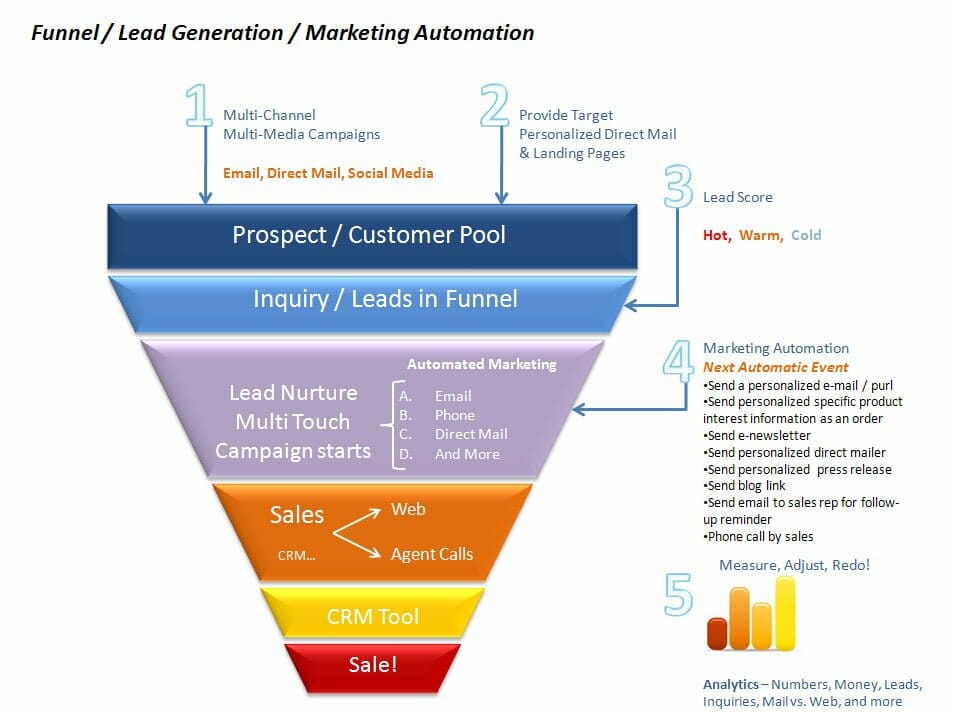 But how does this work with direct mail? Basically, the same way as it does in digital marketing!
Targeted Direct Mail
First, send a specifically targeted direct mail campaign to create your lead generation. Direct mail has a higher level of trust than online marketing and can easily target the right audience at the right moment. But don't rush things right away, you need to nurture your leads first. Here is your ToFu Base.
Send an email
Then, send an email to the recipient on the day the mail should arrive. We suggest sending a follow-up email that includes an ETA for your mailer and prompts them to email you, once it has arrived. If your message on the postcard and in your email both suggest visiting your website, you can be pretty sure those potential customers will follow. You can also begin sending a longer sequence of emails that describe your company and your product in more detail.
Build a Landing Page
Your prospects visit your landing page. The more relevant the landing page to your visitors, the more effective. Give them all the information they need to make a decision: features and benefits, reviews and testimonials, the value of your offer, who are you and why they should buy from you.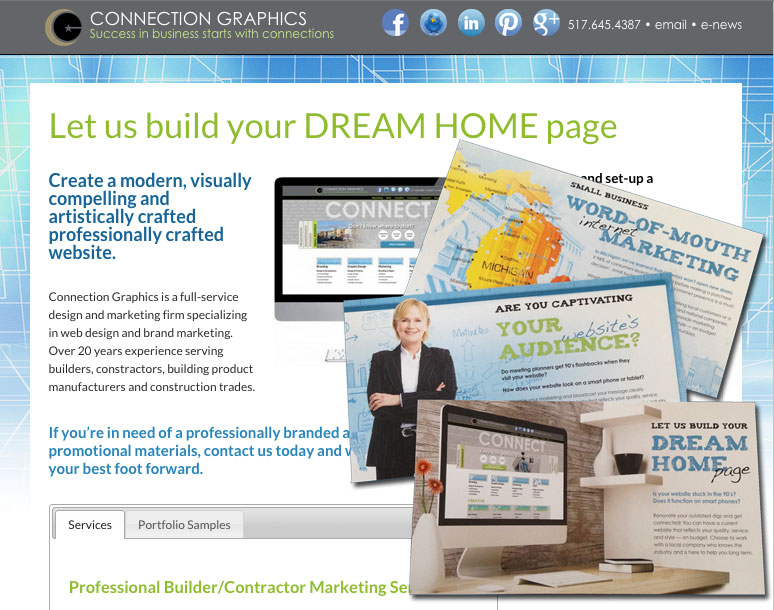 Simply, Call!
What next? Simply, call. Nothing can replace the sound of a person's voice. Whether you use a dialer for salespeople or a virtual assistant on free Skype calls mention your company's name and the fact that you sent them a postcard. The dialogue is open. It's time to spice things even more. Now you have your qualified leads. Make hay while the sun shines. We are here in the middle of something: Mofu!
Retarget with Facebook 
Retarget with Facebook and Google Adword. Use Facebook to retarget your prospective customers that have already seen your direct mail ad, visited your website or landing page, and received the following up email. That should be easy. Set it up and keep it running. You can also retarget your prospects with Google Adwords. Nobody can escape Google. Retargeting serves as a reminder. Your visitors won't forget you soon.

Send the same mailshot
Finally, send the same mailshot to the same mailing list or a slightly different mailer than the first one, with a stronger CTA (call to action) for an order-generation campaign.
People are comfortable with things that repeat over time so they can recognize them. Send the same mailshot repeatedly over time to the same database. Or you can do much better to vary the campaign and build on past mailshots. Make your proposal, urge the action and be prepared for the response!
Send an SMS
Send an automated SMS. Not everybody likes talking on the phone. But sending a text with an open question about your last postcards can remind them to stay engaged.
Free Resources: text from your computer to mobile phones using web platforms such as Open Texting Online or EZ Texting.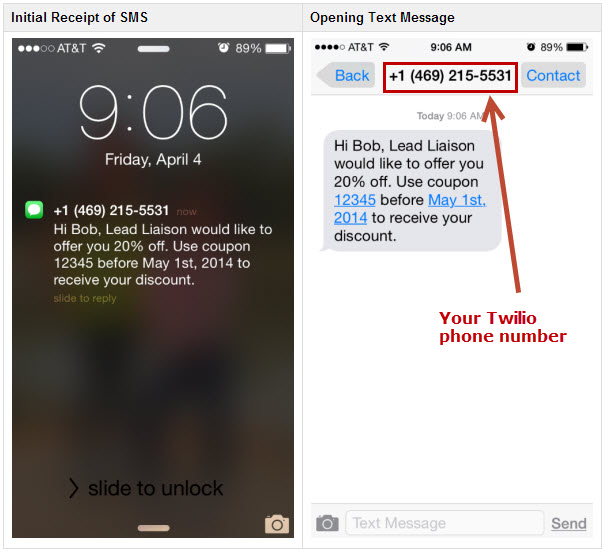 The Last Call 
The last phone call may close the deal. Or maybe not. But there are pretty high chances.
The PLAN
Schedule a follow-up campaign for your mailer. Here is a sample of how it should look:
Day 1: Direct mail campaign and, if it's the case, an email on the day the direct mail should arrive.
Day 1-7: Landing page/website collecting user's personal data
Week 2: Cold Calls
Week 4 – 7 Retargeting on Facebook / Google Adwords
Week 8 Repeated Mailing
Week 9 Automated SMS
Week 10 The last Phone Call.
Sometimes we do get lucky and close a deal on the first mailing. But, usually, it takes more than one single mailing.
So, don't expect sales with only sales materials, build a sales funnel, by mixing offline and online marketing tools, and continuously targeting leads with Facebook and Google. Direct mail is a great tool to start your funnel, due to its tangibility and personalization that drives a higher conversion and trust factor. This way, you have a complete hand of aces, use them to your advantage.