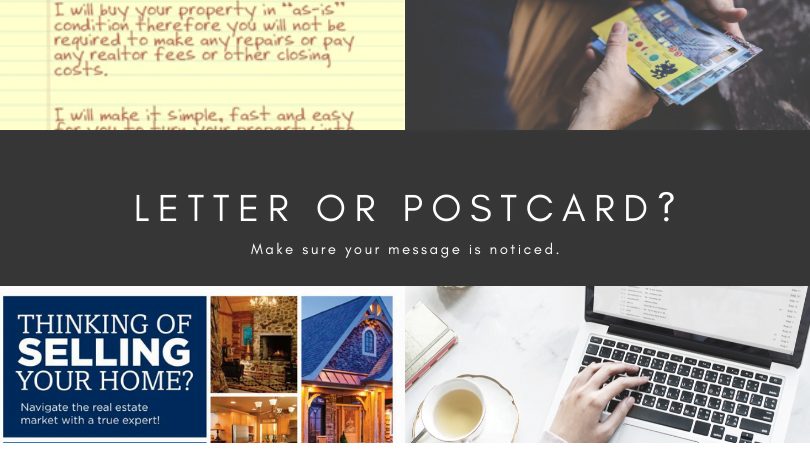 A letter or a Postcard?
A handwritten letter might seem old school; however, it has proven effective even in the digital era. And you don't need to write the letter by hand. Many mailing houses can print your message using a font that looks handwritten.
Postcards are the most cost-effective direct mail format. They are economical to produce, and there is no lower postcard postage in USPS Marketing Mail. However, with postcards, you must downsize your message to fit the recommended template. You can send a 5.5″×10.5″ oversized postcard to make sure your postcard has been noticed. Or an 8.5″×10.5″ jumbo postcard that won't get lost with other postcards and envelopes, but quite the opposite, it will be the first to be seen and read.
You can also choose typed letters. This format can be pricier than a postcard due to folding and envelope stuffing.
Real Estate Direct Mail testing
If you don't know what to send: try a yellow letter with fonts that look like handwriting, a typed letter or a postcard. Here is an example:
Send the yellow letter to one-third of your mailing list and a typed letter to another third. The letter that gets more calls and deals is your winner. You can then mail to additional zip codes and the remaining one-third of your mailing list. Test your new formats against the winner, and you'll know which works best for you with every direct mail campaign.
Remember, when it comes to direct mail marketing, your biggest asset is your mailing list. Approach each segment of your market separately and saturate your targets with a consistent mailing. Whatever format you choose, a handwritten letter or a typed one, don't forget to test it first on a smaller portion, then roll it out to the rest of your mailing list.
AccurateAZ offers from a single-color letterhead to a fully customized magazine, plus fulfillment and mailing services. If you ever have a printing question or project you would like to discuss, the Accurate Mailing Services team is always happy to help.
You can reach us at phone: (602) 433-9101 and toll-free: 1-877-433-9101 or text us at [email protected]