Listen to This Audio to Get a Full Overview in Two Minutes
Postcards are a critical component of your Dental Direct Mail Marketing
Dental postcards are crucial in your direct mail marketing campaign, offering versatility, readability, and trackability for effective patient communication.
While it's true that some individuals may discard postcards immediately, your patients still benefit from reminders. It's important to prioritize maintaining good oral health. Referral dental direct mail marketing postcards can quickly generate leads, while educational postcards can inform patients about the benefits of early detection and regular checkups.
Recent research by USPS shows that direct mail fills gaps left by all other media. Nowadays, 52% of Americans use DVRs to skip commercials, less than 1% of Facebook page fans can see your updates, and email doesn't reach the inboxes because of spam filters. What an
opportunity for direct mail
to take over and deliver highly targeted and relevant messages!

Personalized Messages for Targeted Audiences:
Dental direct mail marketing offers high targeting capabilities. Unlike TV advertisements that address a general audience, you can send mailings to a specific customer list, tailoring your messages based on gender, age, location, education level, income, or ethnicity.
By micro-targeting your audience, you can create dental direct mail with customized messages addressing their concerns. For instance:


Hispanic individuals experience poorer oral health than other racial and ethnic groups in the U.S.


Senior retirees have a higher risk of diabetes and heart diseases related to oral health, with only 2% having dental insurance.


Pregnant women have increased risks of developing periodontal disease, gum tenderness, or bleeding gums due to hormonal changes during pregnancy.


You can emphasize the most relevant points to each group and increase your chances of being called for an appointment.
Recent research by
Valpak says
that Gen X'ers (born in 1961-1980) and Baby Boomers (born in 1940 -1964) prefer mail over online ads to help them make their purchasing or enrolling decisions. 71% of them read direct mail, and a majority of them read it immediately. If you want to target Millennials instead, prompt them to a digital action. Totally doable with all the new dental direct mail integrated marketing technologies!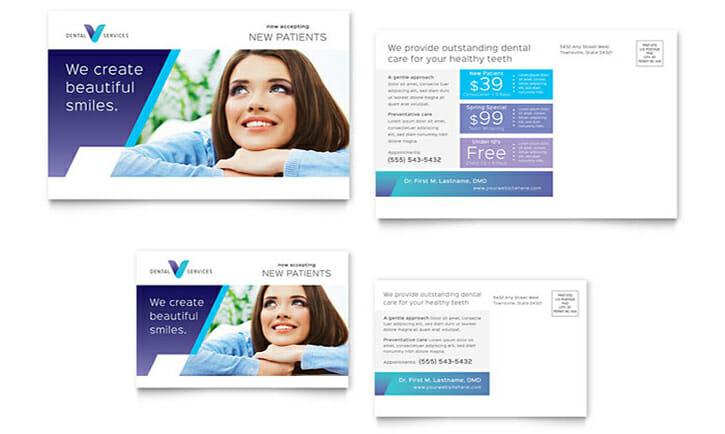 Dentist Postcard Template from StockLayouts
Key elements of a dental postcard:
While dental direct mail is effective, standing out in the sea of advertising is essential for outstanding results. How can you achieve this?
Designing a catchy and
professionally printed postcard
will make a positive impression on your customers. Additionally, proper design choices can trim postage costs and expedite delivery. You can design your dental postcard or seek assistance from our professionals familiar with USPS regulations.
Here are the key elements of a dental postcard for dentist marketing, listed in order of importance:


Large imagery: Choose professional photos that instantly convey your dental message. Using images of your target audience with smiles is a recipe for success, as 80% of effective dental postcards feature such images.


Clear headline: Craft a concise and straightforward headline that tells your prospects exactly what you're offering, such as healthy gums and restore confidence for a bigger smile. Ensure the main photo complements the headline and vice versa.


Contact information: Display your practice name, address, website, phone number, and a map indicating your location in visible places. As convenience is a deciding factor for 85% of patients when choosing a new dentist, provide a personalized URL for them to visit your website. You can also include a QR code easily scanned with a smartphone, directing your targets to a welcome video. Reinforce your message through digital channels on the day the mail reaches them to achieve simultaneous engagement with these dental marketing strategies.


Message: Utilize bullet points to present information that is easy to read and understand at a glance. Avoid dense copies or overwhelming amounts of text on a single page. Highlight the benefits of your dental services, such as quick results with less radiation, healthy smiles, gentle and pain-free dentistry, and the ability to communicate in Spanish.


Trust elements: Address the common fear of the dentist, which affects 75% of patients, by including a nice photo of yourself and a concise bio. Incorporate a current patient testimonial to help sell up to 90% of prospective patients.


Dental offers: Successful dental postcards often feature two or three offers. Consider examples like a free whitening treatment valued at $99, a free consultation and X-rays, or a new patient special with a $50 discount. Send different postcards, if necessary, to each segment of your prospects or current patients, tailoring the offer specifically to that segment. Make the offer time-limited and worthwhile.
Guide to Communicating with Color:
To
create impactful designs
, consider the psychology of colors when selecting the color scheme for your dental postcard marketing. Different colors evoke various thoughts and emotions. According to the Pantone Guide to Communicating with Color:


Blues indicate trust.
Greens and browns convey sustainability.
Gold and purple signify abundance.
Red and pink are attention-grabbing.
Yellow and orange suggest warmth and cheerfulness.
Start with your practice's colors and add complementary colors to enhance the overall impact. Refer to professional guides for assistance in choosing the best color combinations. Ensure the most crucial elements (headline, offer, call to action, and contact information) are prominently displayed. For greater impact, consider the following:


Standard sizes: 6.5 x 11 is the most cost-effective option, while 6 x 11, 8.5 x 11, and 17 x 11 foldouts provide more space for your message.


Full-color, two-sided printing


80-100 lb matte or glossy paper stock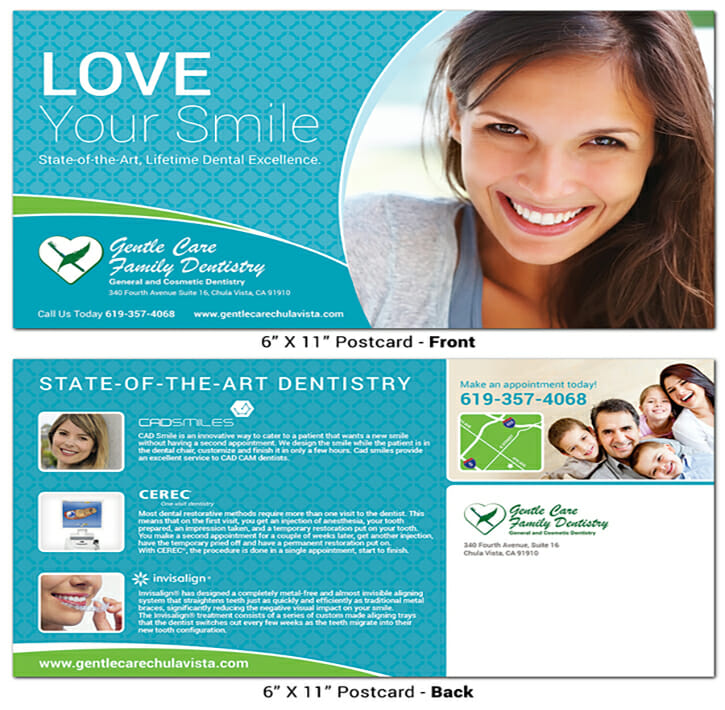 Read more Custom Postcards: Color, Message, and Printing Tips
Ending note:
Remember, while postcards are valuable tools in dental marketing strategies, this marketing campaign's success also hinges on making informed choices regarding target audience selection, offer development, graphics, colors, messaging, paper stock, and postcard size.
By reducing dental recall postcards, you can significantly increase your appointment rate with careful planning and our assistance. We offer support for simple local saturation mailing campaigns and more sophisticated list generation, utilizing demographic, psychographic, and lifestyle data.
Contact us
today for a free consultation. Remember that free list reports and instant estimates are available to you upon request. As always, when you have questions, please call us, toll-free at
1-877-433-9101.