Direct mail planning is significant for all kind of business. Most small business owners often find themselves running their own marketing campaigns in the midst of the busy day-to-day. Fortunately, direct mail marketing can be planned and ready long before it needs to be in the hands of your recipients. That being said, you may have to start planning months in advance to ensure timely delivery and a quality product.
That's why it's important to start planning your direct mail marketing campaigns for the year in December and January. Your marketing schedule for the year can make or break your campaign's success. When done properly, planning ahead will help you set goals and avoid becoming overwhelmed and disorganized as the year goes on.
Here are a few tips to start  your direct mail planning for 2020
1. Start by writing down your business goals for the year. Defining your SMART goals is the first step for setting up a successful direct mail campaign.
SMART stands for Specific, Measurable, Attainable, Relevant, and Timely. Once you've decided on goals that meet those requirements, you'll know exactly what actions you need to take in order to achieve them.
2. Set up significant dates and eventsfor your business. Having a promotion or event every quarter will give you set campaign opportunities throughout the year.      
3. Set a realistic timeline. It can take anywhere from 5-10 weeks to plan, print, and process a direct mail campaign. Then an additional week or two for the pieces to be delivered.
Rush services are often available for an additional fee, but these fees can often be rather expensive and you run a chance of having issues arise with little time to correct them and ensure a quality product.
Keep rush options as a last resort. Consider what you need to do, what time your mail house needs, and then write out your campaign's timeline. Start planning at least three months ahead.
If you have to schedule time-sensitive campaigns for events and promotions, calculate your project milestones backward from the day you want your mailpieces to reach your audience.
Also, plan evergreen campaigns with a frequency of one campaign per quarter.
Timeline Breakdown
Mailing List – Research list sources, request reports, profiling, cleaning, and purchasing: 1-3 days.
Budgeting – Request and approve the estimated costs, based on business targets and the resources assigned to the project: 1-2 days
Concept Development – Brainstorm ideas and decide goals for the campaign. : 2-4 days.
Creative Brief – Keep those involved on the same page with a project overview and a list of deliverables, key selling points and other critical details necessary for timely completion.: 1-3 days
Ad Copywriting – Depending on the format of the mailpiece, the text can be a concise 100 words or as long as several pages. Professional writing services might be necessary. : 1-2 days
Graphic Design – It takes time to create original artwork with a strong creative concept. Don't put pressure on the creative team.:3-5 days
Feedback, Revisions, Approvals – While revisions are a part of the creative process, resist the temptation to make them endless. Limit yourself to only two or three revisions per project. Additional revisions are charged accordingly.: 5-7 days
Printing and Personalization – Postcards can be printed in 2-4 days, but other direct mail in more complex formats may need additional time:4-7 days
Mail Processing – Addressing, folding, envelope inserting, tabbing, stamping, and drop off to the post office.:2-3 days
Delivery – First class: 3-4 days
Standard or bulk mail that is less expensive: up to  3 weeks.
If your postcard campaign begins on March 1st, it will most likely arrive at your recipient's mailbox in the middle of April. Having everything in place before going into production means that you can easily prepare similar subsequent mailings with minimal changes. This will cut future production time in half.
An example of planning for a month: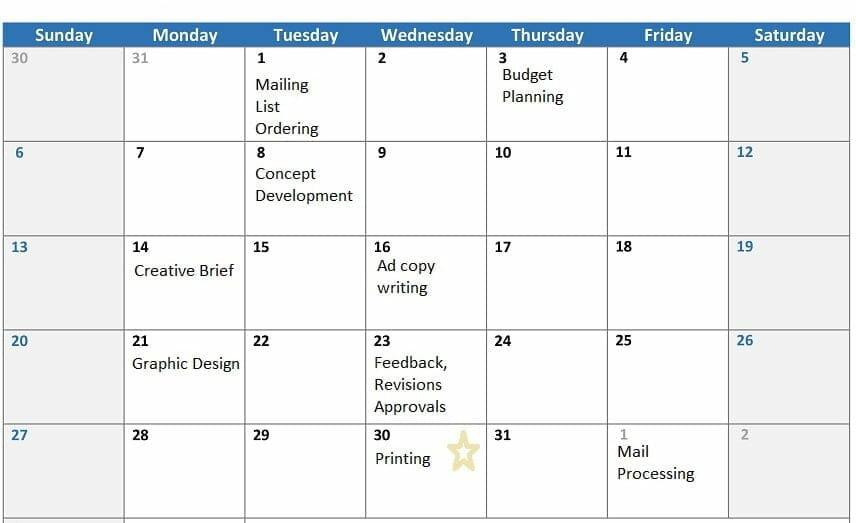 At the end of planning, you'll have a valuable document to keep on for reference. And you'll know exactly what you have to do with what results, as part of your communication strategy.