How Much Does a Do-It-Yourself Direct Mail Campaign Cost?
Direct mail marketing is a measurable, trackable and cost-effective way to get new clients, keep in touch with the old ones, close new sales, or launch promotions. But, how much does it cost a Do it Yourself Direct Mail Campaign in the USA?
In order to get a great return on investment, it's important to have a well put together strategy and to control each cost of your direct mail campaign.
Whatever you do as a marketing effort, our best advice is to be consistent. Learn more in this article how much does a DIY direct mail campaign cost to run and if it is worth it for your business.
1. Mailing List Costs
Begin your direct mail campaign by defining your goals and your target audience. An expert in direct mail will help you with purchasing your mailing list, based on the profile of your targeted audience.
Mailing list pricing is based on cost per thousand names, or CPM as well as a minimum cost.
The prices are approximately between $10 and $24 per thousand for

bulk mail

.
Our

Consumer list

costs average $30 to $55 per thousand, that is $.03 to $.055 per name with a $100 list minimum cost.
Our B

usiness lists

are $55 to $130 per thousand with a $100 list minimum cost.
So, for a Consumer list $100 minimum you receive about 3,300 records. A $100 minimum for a Business list would buy about 1,830 records.
So, your costs for a minimum will be $100. We will start with 2,500 names. 
2. Marketing Copy Costs
You can write the copy yourself, or hire a professional copywriter. Focus on getting attention and craft a strong call to action that motivates prospects to respond.
Here are a few guidelines for writing  your copy or to request from your copywriter:
Consider the goal of your campaign, your copy must be aligned with your campaign's goal.
Set a time limit for your offer, let them know when your offer is ending.
Think about the offer from the customer perspective – would you take the action you want them to do?
A/B test your copy, try different approaches: "Buy 1 and get 1 for free" OR "Save $20" coupon.
What is the cost of a good copy? It shouldn't cost more than $100.
Your total is $200 so far for your first campaign.
3. Design Costs
You may wish to place a letter in an envelope, send a full-color postcard or to give away a whole marketing kit consisting of a brochure and a sample of your product.
Depending on your budget you can choose to:
If you want to do it yourself, be sure to make good choices: find beautiful typography, iconic and powerful imagery and professional themes and templates.
What you should know at this stage of your project: that the design, colors and the imagery will determine only 20% of your campaign's success. The other 80% rests on how well you have filtered your mailing list and how relevant your offer will be for those 2,500 individuals.
Costs for design shouldn't be more than $100 if you are sending one simple mail piece.
Adding the design cost, that makes the current subtotal $300.
4. Printing Costs
Some aspects to consider when ordering printing:
Take into consideration the mailing pack weight to avoid additional postage costs.
Printing 2,500 5.5" x 8.5" full-color postcards will cost about $250. An 8.5" x 11" brochure folded down to 8.5" x 5.5" will cost about $360.
Subtotal: $550 (using a postcard).
5. Postage Costs
There are two basic size categories of USPS Marketing Mail, letter, and flats. Letter size is the most common for marketing campaigns. Business Postage for letter-size pieces can be as low as $0.158 for Carrier Route rate (all addresses in a Postal Carrier Route) but typically average about $ .26-$.27 per piece, much less than the First Class rate of $.50.
Accurate Mailing Services can help you to prepare mail by the post office regulations and reduce mailing costs by at least 50%.
The postage services will add an extra $650 to your final bill.
So, your budget for your direct mail campaign can be around $1,200.
See also Pricing your Bulk Mail Project
6. Test your list.
It's recommended to test a portion of the list first. Of course, it's not free, but it will give you a good idea about the response rate and you'll find out if the list is working for you. Nobody can refund your expense if the list doesn't work, so test it first! Your direct mail services provide only the audience, valid names, and addresses. But the message, the format, the design and the strategy is all up to you.
7. How to measure ROI
At the end of the day, the cost of the mailer isn't important, the ROI is. If direct mail can't assure a consistent ROI, it's probably not an ideal strategy for your business. On the other hand, the mailing costs are irrelevant if you advertise your products or services to the right customers.
How can you track the open rate and the response rate?
Include a discount code that is unique to the campaign.
Use a personalized URL, send people to a landing page on your website that has a specific URL for this direct mail campaign.
Use a call tracking phone number, a special number used only for this campaign, when someone calls for your offer, you'll know that this call comes from your direct mail campaign.
Ask your new customers how they found you.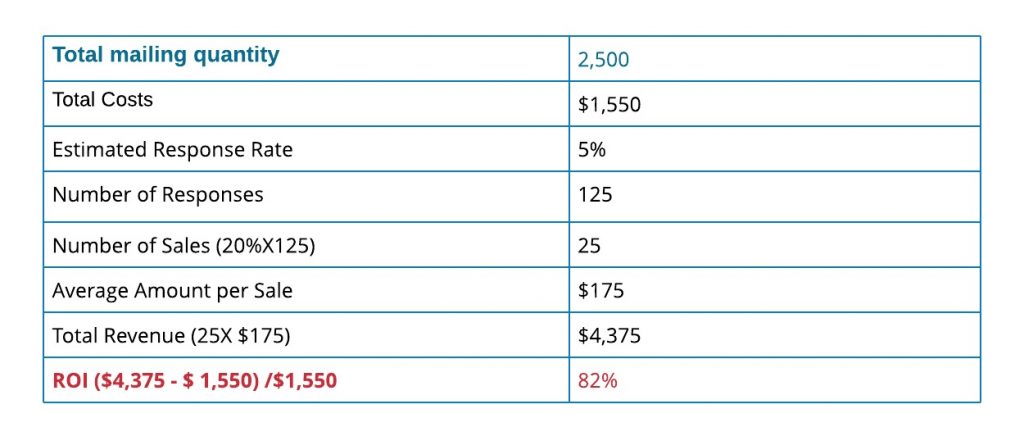 For now, estimate a 5% response rate (for a purchased list). And determine a reasonable number of sales – 20-25% from your funnel of qualified leads (5% of 2,500). Multiply the number of sales by the average amount per sale and you'll have your total revenue from the direct mail campaign. A simple formula to find out the ROI is to subtract the costs from the revenue (and then divided it by the costs). It has to be a positive number!
In conclusion,  your number is positive and consistent, go for it! If you want to optimize your results, we are here to help at each step of your campaign. If your current conversion rates are less than you hope for, we would like to discuss them with you, so call us today.