Updated: February 24, 2023
Direct mail marketing is a measurable, trackable, and cost-effective way to attract new clients, maintain relationships with existing ones, increase sales, promote a sale, send a coupon, or appeal for donations. How much does
bulk mailing
cost on a campaign? What are the campaign costs based on? For a basic direct mail campaign, we created a quick reference tool for postcard mailings and flyer mailings. Please remember that the total cost is NOT an exact quote, it's a reference point.
Postcards
Printing and Mailing Price Calculator for Postcard in 2023

| Quantity | Price | Days | Postage | Estimated Cost |
| --- | --- | --- | --- | --- |
| | $ | | $ | $ |
| | $ | | $ | $ |
| | $ | | $ | $ |
Flyers
This tool is designed to give you a general idea of cost. It is not an exact quote. Please contact us for exact quote.
Below is a quick reference list of factors that affect the bulk mailing rates of your campaign.
Graphic Design or artwork
Mailing List
Bulk Mailing List Data Processing
Printing
Bulk Postage
Copywriting – Optional
Tracking – Optional
1. Design Costs
The design cost can be zero if you design it yourself or provide print-ready files.
Graphic design service costs can be all over the map because there are so many variables. We will use the three most common and assume the design will be simple rather than complex.
Postcard mailing – Our design cost for bulk mailing postcards starts at $125.
Envelope mailing – The design cost for a letter mailing (envelope and letter) starts at $125.
Flyer or Brochure – Our design cost for flyers or brochures starts at $125.
Tip – To get the lowest postage rate, the design must follow USPS rules. If you need help with this, call us and we will check your design and guide you before you commit and start printing.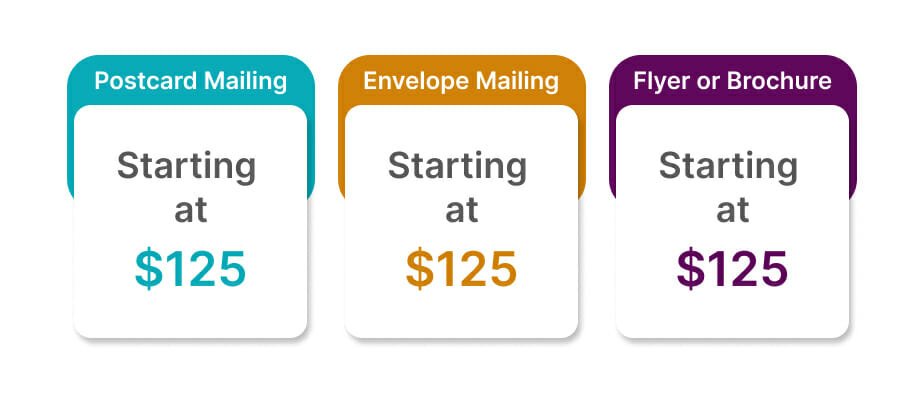 2. Bulk Mailing List Costs – Optional
If you provide a mailing list, you can skip this section.
Mailing lists are typically sold at a cost per 1,000 records and could have a minimum cost. Mailing lists generally fall into one of six categories; Consumer, Business, New Homeowners, New Movers, Specialty, and Psychographic.
Consumer list averages $35 to $55 per 1,000 or $.035. to $.055 per record.
Business lists are $55 to $130 per $1,000, or $.055 to $.13 per record. For Consumer or Business lists the minimum order cost is $75.
New Homeowners list averages $70 to $100 per 1,000, which is $.07 to $.10 per record. The minimum order cost is $75
New Mover lists average $70 to $100 per 1,000, which is $.07 to $.10 per record.
Specialty lists average $75 to $200 per 1,000 with a $ 100 list minimum cost.
Psychographic lists are the most expensive. It is hard to put a price range for this list type. It is best to call and talk with us about your specific needs. There is a minimum cost of $500.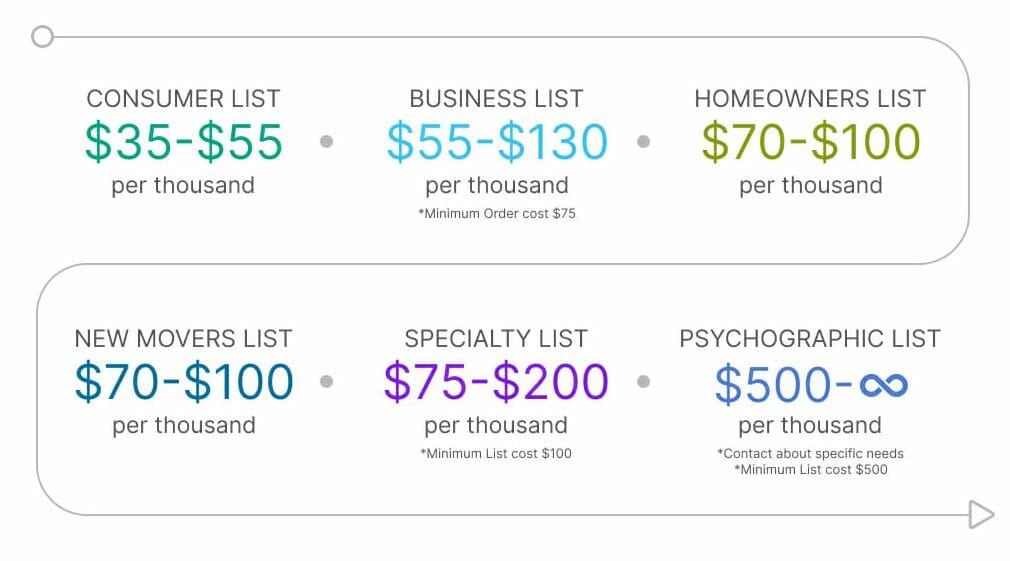 3. Mailing List Data Processing Costs
What is the data process cost? The mailing list, either purchased or customer-provided, requires data processing to get the highest deliverability rate, and lowest postage amount. The Post Office requires mailing lists to be verified for proper address format by CASS™ (Coding Accuracy Support System) processing, and NCOALink® (National Change of Address) processing to update records against the postal database of people or businesses that have moved.
This can range from $5 per 1000 and go up depending on the services required or requested.
Tip – After completing this step, you know the final printing, mailing, and postage numbers for an accurate project cost. This step could save you thousands of dollars. For example, you have a customer list of 100,000 so you order printing for 100,000. However, after the data processing, the number of mailable records could drop substantially, say 90,000, and you just purchased 10,000 more printed pieces than you will mail.
4. Printing Costs
This cost can vary dramatically. Some aspects to consider when ordering printing;
Quantity
Full color or black only
Paper type and quality
Double (4/4) or single (1/0) sided printing
If a letter, the number of pages
Variable Data for personalization. An example is a letter including your name or any piece of information specific to you, such as a bill or letter that has your name on it.
Pricing for printing can be almost anything. For the purpose of budgeting, a good minimum to budget for is $500. Digital printing is great for smaller runs of letters, postcards, envelopes, flyers, and brochures.
5. Bulk Postage Rates
The design, size, weight, and orientation of your mailpiece affect the cost. A best practice is to consult with us before you commit to design and printing. Our free consultation can save you hundreds or thousands of dollars in postage.
There are two basic size categories of USPS Marketing Mail, letters, and flats. Letter size is the most common for marketing campaigns. Business Postage for letter-size pieces can be as low as $0.158 for Carrier Route rate (all addresses in a Postal Carrier Route) but typically average about $.26-$.35 per piece, much less than the First Class rate of $0.63.
Lowest – $0.102 (nonprofit rate mailing to every address in a USPS Mail Carrier route) per piece
Average letter or postcard – $0.337 per piece

Tip – Accurate Mailing Services is recognized by the USPS as a Seamless mailer. Less than 1% of mailing companies in the USA are designated as Seamless mailer. It's the highest quality rating for mail houses. Why does this matter to you?
When mailing with us, you get a lower postage rate than 99% of mailing companies. Yeah, we're proud of that.
6. Copywriting – Optional
You can write the copy independently or hire a professional copywriter.
A professional copywriter can charge as little as $50 for something like a postcard. For a campaign that involves a letter appealing for financial donations, such as a nonprofit, you should budget around $500.
Three things to include in most campaigns are an offer, a call to action, and the offer's expiration.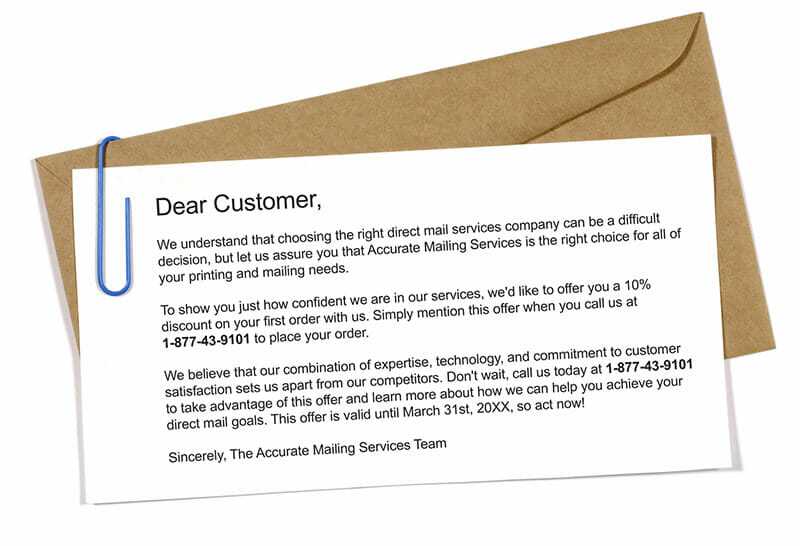 7. Tracking – Optional but a really good idea
At the end of the day, the cost of the campaign isn't as important as the ROI.
How can you track the open rate and the response rate?
Include a discount code unique to the campaign. Some QR codes can link directly with your POS system.
Use a personalized URL, and send people to a landing page on your website with a specific URL for this direct mail campaign.
Use a call tracking phone number, a special number used only for this campaign. When someone calls for your offer, you'll know that this call comes from your direct mail campaign.
Ask your new customers how they found you. If you do not know when you communicate with a new prospect, ask how they found you. For example, you might be running a Google pay per click campaign, Facebook, social media, direct mail, or any other marketing channel you are using. The information helps calculate your best ROI.
If you have any questions, please call us. We want to help.
Call us today at
877-433-9101
.