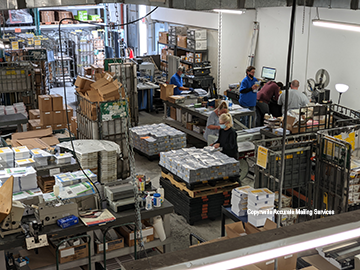 Mail House Services:
Mail house services are specific services for direct mail marketing. We will explain them in the logical order of a direct mail project.
Mailing list service

Copywriting service

Graphic design service

Printing service

Bindery service

Postal sorting the mailing list

Preparation of the physical mailpieces

Delivery to the USPS
1. Mailing list service
The first service is the mailing list. A mail house can provide a targeted mailing list for your specific campaign including demographic and psychographic information. Demographic information is the most common such as age, income, geography, etcetera. Psychographic lists are behavioral or lifestyle types. Mailing lists are important factors to determine the right audience for your campaign goals. Clients and also provide their own mailing list they have cultivated to a mail house.
2. Copywriting service
The second service mail houses provide is copywriting. When it comes to the content for your direct mail message, the rule of thumb is to use the "what's in it for me" strategy. We coach our clients to consider their messaging. Often a client-provided messaging is something like "…we are the best." Most of the time, clients don't really care if you're the best. Customers want to know how you are going to solve their problems. Some clients hire a professional copywriter to write engaging and convincing copy.
3.

Graphic design service
The third is graphic design services. The United States Postal Service has very specific requirements for mailpiece design. Additionally, the colors, photos, offer, and call to action should all be considered in the graphic design process. Some clients design and print before checking with a mail house for proper mailpiece design. If the design is not USPS compatible, the entire print job may not be available.
Another aspect of the design is variable data printing. Variable data printing is using elements in the data (mailing list) to generate specific messaging on mailpieces for a very personalized mailpiece. Variable data can be as simple as using the first name, or as complex as changing the entire layout, graphic design, and images of a mail piece.
4. 

Printing service
Fourth is printing services. A good mail house will ensure your mailpiece, or letter and envelope campaign is printed in the most efficient and cost-effective way. For some projects, digital printing is the best method. For other projects, commercial printing is the best. Digital printing is required for variable data projects and digital printing has some limitations. Digital printing is usually for lower quantity print jobs. Commercial printing is best for high quantity print jobs. We offer both printing services.
5.

Bindery service
Fifth is bindery services. Bindery means manipulating paper such as cutting, folding, perforating, scoring, and tabbing. Some bindery services are required for mailpiece compatibility. Other bindery services are required to meet the design and creative elements of a direct mail campaign. 
 6. 

Preparation of the physical mailpieces
Sixth is presorting the mailing list. After mailpiece design, this is the most critical step in the process. Mail houses use software that complies with very specific USPS rules.  Without this step, there is no postage discount. The software checks for bad addresses updates addresses from the USPS database and standardizes an address as best as it can. Gone are the days of sorting a list in zip code order, printing and applying labels, and getting a postage discount.
7.  

Delivery to the 

USPS
Seventh is the physical production of the mail. Mail preparation can involve a few, or many, steps. For example, postcard mailings require a few steps. Envelope and letter projects are more complex. Magazines are also complex. Other production steps include folding, tabbing, putting mail in mail trays, sacks, or on pallets. Each mailpiece must be in the proper sequence to comply with USPS rules.
Last is delivering the mail to the USPS. When the mail presorting process is complete, the USPS requires all the legal documents the presort process produces. The documentation proves you have met their criteria in order to claim the lowest postage discounts. The USPS uses the documentation to provide the mail house with a postal receipt acknowledging the number of mail pieces delivered, the day and time it was delivered, and the postage amount.
We hope this information will inform and help you choose the right mail house; choose Accurate Mailing Services please; for your campaign to be very successful.