Listen to this blog summary:
Don't take a chance to miss something, big or small, when you send your next dental postcard campaign to your dentist mailing list. In the rush of the campaign running, under pressure or in stress, you can easily forget to ask a question or miss an important step.
The entire process is smoother by arming yourself with a dental postcard checklist that lists the necessary tasks to produce your personalized postcard campaign. Whether on paper or screen, a useful checklist with a few tweaks, depending on the project's magnitude, can streamline your mailing campaigns. By following our guidance, you can prevent expensive errors and ensure success.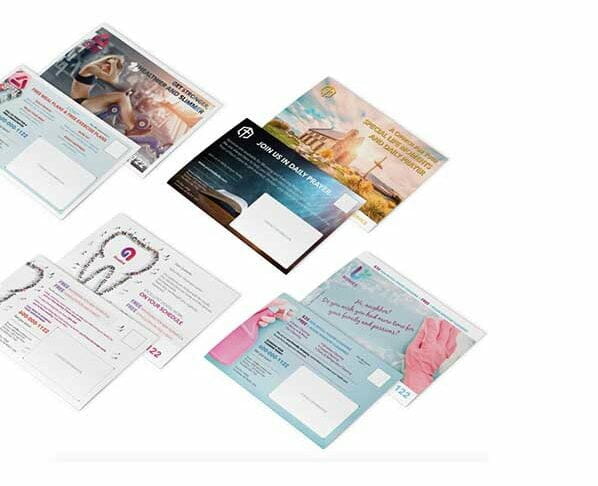 Dental Postcard Checklist:
To help you with your next postcard campaign, We've covered you with this comprehensive dental postcard checklist. Following these guidelines guarantees that you are taking the necessary steps to ensure your success with dental postcard design. The campaign runs smoothly and effectively.
Step 1:  Define Your Goal: Before beginning the campaign, clearly define your goal. This will help to determine the best approach to take and measure the success of your campaign.
Step 2:  Identify Your Target Audience: Your target audience should be defined based on demographics, interests, location, and other factors relevant to your goal. This will help to ensure that the message reaches the right people.
Step 3:  Maximize Your Mailing List: Utilize Accurate Mailing Services refined mailing list according to your objectives and target audience. With our advanced segmentation techniques, each group will receive personalized messages catering to their interests and needs. Count on us to optimize your dentist mailing list, ensuring impactful communications resonate with your desired recipients.
Step 4:  Craft Your Message: Your message should be concise and compelling. It should resonate with your target audience and inspire action. For your next personalized postcard campaign, use –
Catchy Headline:

Create a bright and bold headline that grabs attention and entices prospects to read further.
Benefits Communication:

Ensure that your headline communicates a clear benefit or advantage recipients will gain by engaging with your dental services. For example – "Transform Your Smile: Discover the Benefits of Our Dental Services."
Trust Elements:

Incorporate trust elements in the copy, such as a smiling face or a short bio, to establish credibility and connection with potential patients.
Step 5:  Design Your Mail Piece: The design of your mail piece is critical to its success. Use eye-catching graphics and fonts, and add personalization elements, such as the recipient's name and colors, to capture your attention and reinforce your message in dental postcard design. To ensure an impactful postcard mail Piece, include the –
Visual Graphics:

Use graphics on the postcard that reinforce the message conveyed by the headline, helping to enhance the overall impact of your campaign visually.
Dental Imagery:

Incorporate an image that immediately conveys the idea of dental care. This could be a picture of a smiling person with healthy teeth or any visual element representing dental services.
High-Quality Images:

 Make sure the images being used are appropriate. The postcards are large, impressive, and have the appropriate resolution for print. Blurry or pixelated images can negatively impact the overall impression.
Attention-Grabbing Colors:

Choose colors that easily catch people's attention for dental postcard design. Vibrant and contrasting colors can make your postcard stand out in a mailbox filled with other mail.
Step 6:  Brand Consistency: Make sure the colors used on the dental postcard design match your brand's personality and existing visual identity.
Step 7:  Visible Contact Information: Place your contact information, such as phone number and address, in the most visible places on the postcard, making it easy for recipients to contact your dental practice.
Step 8:  Compelling Offer: Include at least one compelling offer that incentivizes recipients to take action. This could be a discount, free consultation, or other attractive promotions.
Step 9:  Social Proof: Strengthen your offer with a testimonial or social proof element that reinforces the benefits of your dental services, increasing trust and credibility.
Step 10:  Highlighted Call to Action: Ensure that your call to action and offers are highlighted with an accent color, making them visually prominent and encouraging recipients to take action. Also, present the benefits of your dental services using bullet points or highlighting them in the copy. This helps prospects quickly understand the value they will receive.
Step 11:  Personalization: Personalize the postcard or address it to a specific audience, increasing the sense of relevance and engagement.
Step 12:  Practice Identity: Display your practice name and logo on the postcard to reinforce your brand and create recognition.
Step 13:  Clear Hierarchy: Establish a clear typographic and visual hierarchy, ensuring that the most important information stands out and is easily noticeable.
Step 14:  Visible Location: Make sure that the location of your dental practice is visible at a glance, helping recipients quickly identify if your services are easily accessible to them.
Step 15:  Print Your Mail Pieces: Once your mail piece is designed, print it. You can use our printing and mailing service to create and send your campaign. There are many options available, including Variable printing and USPS. We also offer mail list management, printing, and mailing features.
Step 16:  Post Your Mail Pieces:  Send your campaign using a bulk mailing service. You can also use bulk mail rates to save on postage costs.
Step 17:  Measure Your ROI: Track and analyze your results after your campaign is sent. Use our data analysis tools to measure the success of your campaign and adjust your strategy for future campaigns.
By following this dental postcard checklist, you can create an effective mailing campaign that maximizes your chances of connecting with potential patients. Remember, if you need assistance with your postcard marketing campaign, Accurate Mailing Services is here to help dentist postcards. Just text us, and we'll take care of the rest. 
Contact us today to learn more about our postcard marketing campaign and how we can optimize your postcard marketing efforts.
You can reach us at phone: (602) 433-9101 and toll-free: 1-877-433-9101 or text us at [email protected]